"Without innovation and change in furs there can be no fashion, as there can be no perfect flower without fragrance." Lawrence Kaye, Christian Dior
The nuances of fur fashion are incredible this season-being treated like fabric and played together with shaker knits, heavy textures and each other. This year's look is very different from the old status fur. Several furs extravagantly mixed on the same coal, intricately pieced rabbit and squirrel furs, and the look of fur fringe is back. Technology has produced new looks in fur: new ways of slicing and stitching furs into patterns and designs; ranch mink ribbed to look like corduroy, Blackgama that looks like velvet and truly reversible raincoats. This is the year to invest in a fur coat, there are cuddly muffs and flinging scarves, with heads and tails left on.
This season, there are hundreds of elegant attitudinal furs from which a woman or man may select. Furriers are reaching for everyone-from those of you who have never considered a fur to those of you who are considering a second, or seventh.
If you are a naturalist, you have not been overlooked: pelts are ragged and wild animal pelts are very much in. Wild animal mink, tanuki, coyote and wild natural sable are among the favorites available.
In "shopping around" to find the style and type of fur that is most flattering to you, your best bet is to buy from a "top-house." After all, its reputation is at stake, which will ensure the quality of the garment. The ultra-best buys can be gotten from manufacturers, but in most instances you must know someone. If you have the patience for inquisitive stares and, "Now we only sell to stores," you might try this route first.
For women who are buying a fur for the first time and are undecided, a dark mink is the best buy; it is the most wearable and most suitable coat for every occasion of dress. If you are buying a second fur, lynx, a tanuki, fisher, Chinese sable or fox, colored in silver, red, wheat, white or shadow are the push for this season.
Men, there are furs for you. If you have been a little skeptical about that dark ranch mink you have been eyeing for the past two seasons but didn't buy because you thought it might be "too much," there are some alternatives that you are certain to find au courant: nutria, raccoon, badger, coyote or muskrat.
Fur Care
So, now that you have an effective attitudinal fur, how do you care for it. Storage is the key; during the summer your fur should be placed in cold storage, because it requires a low temperature environment. Your fur should never be bagged or enclosed, this will destroy the life of the fur. In the winter, it should always be hung in a cool, well ventilated place.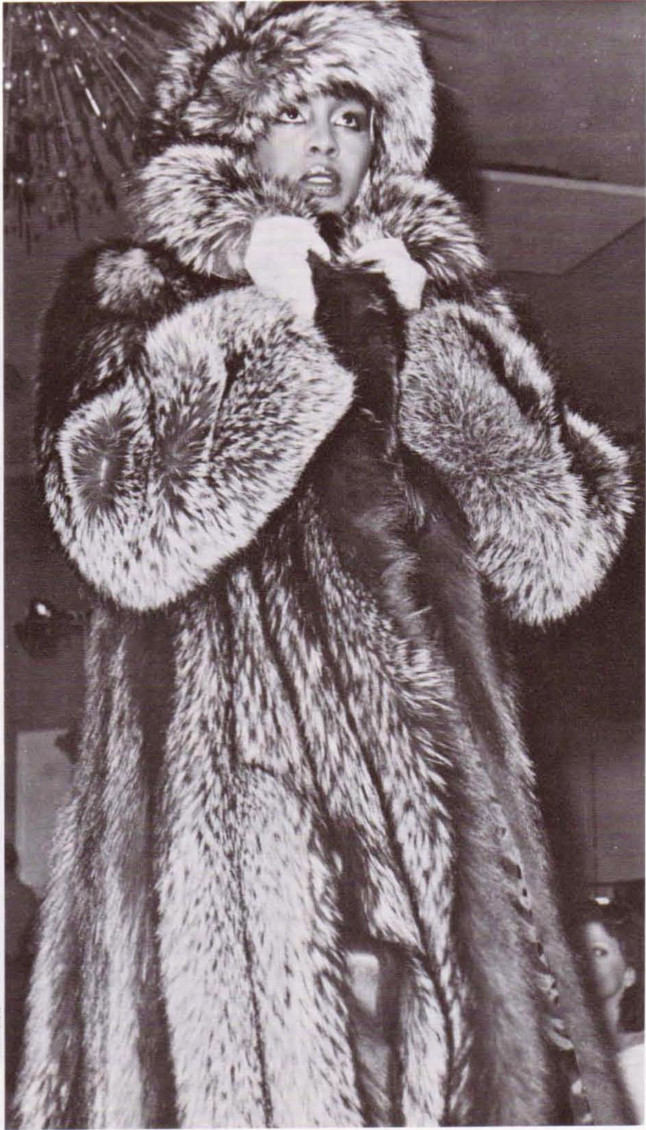 In addition to storing your fur, it should be cleaned and glazed after each season's wearing by professionals in this field. The glazing revitalizes the fur—restoring the luster and shine. The cleaning process involves tumbling the fur in sawdust to remove the oil and dirt, then the fur is blown out with streams of cool air. When considering storage, ask about cleaning and glazing to determine if the services are included in the storage fee; several storage houses include it, others charge a rate for storage and a rate for cleaning and glazing. Rates for storage may vary based on the type of fur, length and value of the garment. With good care your coat should last from ten to fifteen years.
Need a start! Throw a boa around your favorite pantsuit ensemble and top it off with a 1930s-style pillbox hat; add a fur hat, fun scarf and muff to that deep vented suit you bought last season. You may mix or match the furs—anything goes: jeans, boots, blousons and fur go well together. Gents, the boots and pointed-toe shoes you bought last season are still fashionable; turtlenecks and pleated gabardine trousers seem to go on forever, fortunately. Your fur will give your regulars the flair you've been looking for.
To help you develop your personal attitude, the following designers have created an avalanche of styles and looks this season for both women and men. There are furs for every imaginable occasion, for every possible activity and for the most dire condition of weather starting at about $1,000 to $70,000.
Christian Dior, designed by Frederic Castet of Dior, Paris, and Laurance Kay, New York, tends to softness as evidenced in dramatic coats, capes, blousons and jackets of new length, shaping and colors. The look is casual with contemporary character.
The collection for '78 features dashing chemise coats and many new jacket shapes and lengths—mink jackets patterned like Navajo blankets; reversible coats in mink, coyote, sable. The cloth side is an antelope-like fabric in Belleseime by Klopman Mills, very soft, very luxe; emba mink is appealing, in shades of Jasmine, Rovalia, Autumn Haze, Lunarine and natural; a beautiful new color— "SUN GLOW" in the rarest mink mutation; dark beauty in Blackgama mink and Black Willow capes and coats, ponchos and  briefcoats; Natural Russian sable of unsurpassed beauty in jackets, capes and coats.
The men's list is as impressive, varied and as dashing: from short cuts to Russian raccoon greatcoats and a selection of Blackgama mink and coyote. Fur lined coats, short and long. Want something different, dashing and distinctive, get a raincoat lined with your favorite fur.
Maximilian, designed by Anna Potok and Gilles Dufour, features everything you've ever thought of in fur, and more you didn't know about. Its ribbed minks are unusual, opulent and extravagant. Its geometric patterns go beyond Euclid's wildest dream and its beaver looks like plush velvet.
Nothing was spared in the design of this collection and nature is ever present. The collection includes ermine, Chinese sable — the standout — ribbed nutria, hamster, natural golden sable, natural Russian sable and native wild mink. Everything is available: raincoats, ponchos, quilted short jackets, coats with tunics and scarves, and vested jackets. The look is soft, sporty, comfortable, luxurious.
Furs from Quebec and Montreal, newcomers to the US, include four fur houses: Gilles Allard Fur Studio, Amsel and Amsel, Natural Furs and Thrift Furs. Their fur fashion message is: shoulder emphasis—raglan styling, puffed sleeves, flang edges and subtle padding. Dramatic collars— petal and scallop shapes, colorless models and extravagant boas are also fashionable flares. The new blouson silhouette—casual version of the bigtop look, off-center closures and novelty closures; classic bigtop jackets, and full-length soft coats are the ultimate in luxe. The design ideas have been applied to chinchilla, mink, swakara, fox, beaver, sable, tanuki. Nothing detracts from the furs. The standouts of this collection are the hats and chinchilla furs.
A fur is first aid against New York's merciless winters, and is as functional and everlasting as a pair of blue jeans. What other single wardrobe item can be attitudinal, elegant, opulent and warm, all at the same time?
Keep reading this issue – next article