Nubian art, an ancient and much misunderstood art form will be brought into the twentieth century in a comprehensive exhibit at the Brooklyn Museum, September 30-December 15.
The exhibit promises to be a unique experience for its viewers. "It's the first time that the continuity of the Nubian civilization will be looked at from a Nubian point of view…" says Michael Botwinick, director of the Brooklyn Museum.
Nubia, the Egyptian name for the ancient kingdom of Kush was a desert civilization located in the Nile Valley straddling southern Egypt and norther Sudan.
Although Nubians had developed their own nation, the Kingdom of Kush, and conquered Egypt in 751 BC where they reigned for a century, the Nubian civilization has not been fully recognized by modern researchers.
"The trouble is," says Floyd Lattin, coordinator of the exhibition, "the 19th century archaeologists were trained in Egyptian art and anything that didn't fit within its canons was dismisses as backwater."
Yet piece by artistic piece, Nubian art is now being resurrected as an art form from a significant Black culture.
A most notable factor leading to this reexamination has been the 1960s archaeological digs of the area now covered by the Aswan Dam in southern Egypt. Excavation for the building of the dam unearthed many artifacts of Nubian origin.
Nubian ant is a curious fusion of Traditional African forms and Egyptian motifs. It was the distinct African elements that prodded archaeologists to reexamine and formally recognize Nubian art as a separate art form.
"In a number of museums Nubian exhibits are considered rather poor imitations of Egyptian art, but all of a sudden, I saw in many of these pieces African elements which fascinated me," said Dr. Bernard Bothmer, chairman of the Brooklyn Museum's department of Egyptian and classical art and organizer of the exhibition.
Interestingly, when Bothmer was gathering pieces for the show, he found one museum in Britain where the entire Nubian collection had been stored in the basement since before World War II.
The exhibit at The Brooklyn Museum will include more than 250 objects selected from museums in Egypt, the Sudan, and Europe.
"If we've done our job right, this exhibition, with its seminars, catalogue [500 pages, 2 volumes — worth buying], and other publications, will create a whole new field of interest in the only Black civilization known to archaeologists," says director Botwinick.
So be proud! Be inspired and be intrigued by a glorious age in African history. Visit the Brooklyn Museum, 188 Eastern Parkway, Brooklyn, NY Museum hours Wednesday-Saturday 10-5; Sunday 12-5 p.m. Admission is by donation.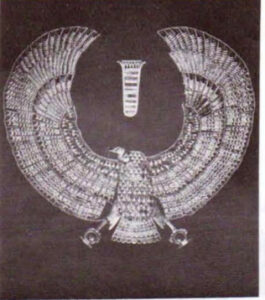 RSVP King Tut — Following a reprint (ROUTES, June 1978) of pertinent information concerning the exhibit of the treasures of Tutankhamen scheduled to open at the Metropolitan Museum of Art on December 20.
• Beginning on September 18, reservations may be made between 10 a.m.and 6 p.m. at the approximately 1,000 Ticketron outlets throughout the United Stales for a service charge of 60 cents. Ticket outlets will also be installed at the 80th Street entrance of the Museum where, beginning September 18, reservations can be made between 8 a.m. 8 p.m. with no service charge. Telephone orders will not be accepted.
• The Metropolitan has also decided to remain open seven days a week, 82 hours a week, which should allow attendance of about 1,3000,000 visitors. Other plans include a special entrance for the Tutankhamen exhibition at the south end of the Museum, 80th Street and Fifth Avenue. Persons holding reservations will enter the Museum at that entrance and present the reservation at the admissions desk, where it will be checked.
• Orders for General Group Visits must be mailed to the Museum, post-marked no earlier than May 15, and will be filled in order of the postmarked date. Mondays from 9 a.m. until 6 p.m. have a been reserved for general groups of people of 40 and a maximum of 700. Each member of the group will pay $10. These groups will be booked by the Admissions Department o f the Museum by mail only.
• The Museum has a special telephone number for Tutankhamen information: 999-7777.
Keep reading this issue – next article