Tired of watching The Young and the Restless, Another World, The Guiding Light and all those other soap operas based on life in antiseptic suburbia? Want to see something more urban, more down? Then make it on over to Brooklyn where you can catch that grand soap opera Beaulah Johnson.
It's creator, Cecil Alonzo, an actor-director-playwright who lives and works in Brooklyn, calls it "the world's first live, continuing saga in soap." The show has 22 characters, all with their own little stories. Lead character Beaulah Johnson is described by Cecil as "a strong compassionate woman who is chronically unemployed. Her compassion gets her involved in other people's lives. She occasionally speaks with a salty tongue, not vulgar, just slightly risqué. She's determined to make a way in life, and I want people to like her for that determination."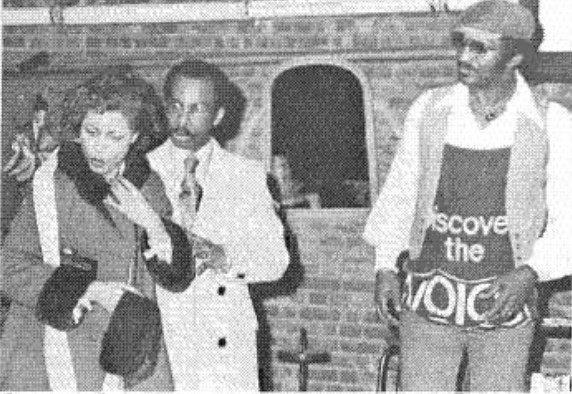 Other notable characters, all of whom live in Beaulah's Brooklyn neighborhood, include: Ella Mae Judkins, A 32-year-old Christian gospel-singing virgin who thinks the Lord is going to get her a recording contract —unfortunately, she can't sing; W. Roscoe Springs, The Candy Man, an inspiring entrepreneur owns a candy store down the street from Beaulah. He got his nickname because all his neighbors think he's sweet;  Anthony Alphonse, the illegal alien who's looking for an American wife in the worst way, so he can stay in the US; Sister Jenny Gooch, the biggest gossip this side of the Bronx Zoo;  Mabel Tee, the reformed madam who gave herself to the Lord after her husband died on their honeymoon; Rufus and Lizzie Wilson, struggling parents of eight, with one more on the way; Godfrey Parish, the mailman who takes pride in his ability to deliver more than the mail; and Carol vibrant Melbe Jenkins Higginssons Tolliver, "the resident fortune hunter who's going to make it to the top one way or another."
According to Cecil, who has written all 16 of the Beaulah Johnson stories that the Alonzo players have done thus far, the reaction to the soap opera has been unbelievable. "People have come to see it from all over the Tri-state area, with many of them being repeaters. And we've done it with little help from the press. Only the Black Theatre Alliance Newsletter and the Amsterdam News have written about us before this ROUTES piece." Upcoming is a spread in the Soap Opera Digest.
How did Beaulah Johnson come about? I asked Cecil, who plays the role of Rufus Wilson in the soap and who has previously appeared in plays such as Day at Absence, Happy Ending, Teahouse of the August Moon and Murder in the Cathedral as well as the role of Miliraur in Superfly and Fred Williamson's bodyguard in Black Caesar. "It started with two characters I created in a play called Breakfast is served," he began. "People responded to it so enthusiastically that a friend suggested that since I wrote it and had a company to perform it, why didn't I do something like a soap opera. I decided to do a true soap. Beulah Johnson, like most of the characters in the plays, is named after someone that I knew when I was growing up in Williamsburg, Virginia. In fact, the real Beaulah Johnson sent me a $25 donation when she heard about what we are doing."
Cecil was five years old when he first met the real Beulah Johnson and several other people incorporated into the soap. "Our church planned a pageant," he recalls., "and needed a young child to be in it. My mother made me do it. The pageant story was about a woman who was so busy getting ready for Jesus that she had a little time for her fellow human beings."
"I remember that I had to go to her with a cut finger, and she was too busy getting ready for Jesus to help me. All I really had to do in the production was cry, but I did that so well that the audience applauded. I found myself liking that. I've been hooked on theater ever since."
In addition to acting, Cecil has written several works, including Black Voices, which was aired on public television in 1974; Strike One Blow, a prison drama written in collaboration with an inmate; Circus Maxi-Us, a children's play about a group of circus animals who ran away from the zoo rather than perform for bad children and Somewhere Between Us Two, a poetic drama with two characters who don't understand each other in spite of their love for each other.
Like many other artistic directors, Cecil is fiercely devoted to his company and not overly modest about its accomplishment. When asked to list the things that make the Alonzo Players unique, he says proudly, "We are the only troupe to have premiered one or more original works every year of our ten years of existence; we are the only troupe whose founder is principle playwright, actor, director and co-producer of all its productions. Our producing company is C & O Productions with Oscar Huges as co-producer. We introduced a Dinner Theatre wing to New York City back in 1974 when we used to perform at the Sea Food Playhouse Restaurant. We are the only troupe to have traveled by invitation, without ever having had a booking agent, to fifteen states plus the Virgin Islands and Guyana in South America. We are the only repertory company in this area to have principal performers who have been with the group an average of six years straight, with many of our 25 members having been with us the whole ten years. Finally we are the first in the world to develop a continuous, live format for a saga in soap. We declare this, despite the erroneous statement in a front page Wall Street Journal article that said a two-month-old company in Philadelphia is the first. I repeat, we are the first. We have been doing Beaulah Johnson for two years and will be doing our third season come September, hopefully in our new space."
For further information about the Alonzo Players and Beaulah Johnson, call 622-9058.
Keep reading this issue – next article