It is not often that a totally new concept in art is introduced, and it is even rarer to find such a concept developed by a 21 year old woman. The last new art concepts introduced into America during this century were fauvism — an expressionistic movement that preceded cubism and whose paintings were marked by bold distortions of vivid colors — and Andy Warhol's celebrated pop art — bigger-than-life replicas of comic strip frames and supermarket items. Now, add to these Michael Kendall's Metaphysical Picturalization.
Ms. Kendall, now 26 and living in New York City, explains: "If artists can consciously allow symbols to come into themselves, they can become vehicles for attracting energy. In this case, the energy is painting — different signs and symbols attract different kinds of energy. For example, the color red is numerically represented by the number one, and, energetically, it vibrates. I put them all together into an algebraic formula." Ms. Kendall's technique is a silk screen process which utilizes mezzo-tints and transparent ink overlays; she combines a range of metaphysical factors with her precise algebraic formula to create an art form.
The only example of Ms. Kendall's work still available for viewing hangs outside the 5th floor library of the United Nations building. Mary Edmonia Lewis, 1867, First Negro Artist of the Western Continent was unveiled May 9, 1978, by the wife of U.N. Ambassador Andrew Young. Following that presentation to the US Mission, Ms. Kendall's portfolio of six historical narrative paintings, based on the life of Mary Edmonia Lewis, was shown in a two week exhibition at the Wauter's Gallery on Madison Avenue. All the paintings in this portfolio deal with different episodes in Ms. Lewis's life and were presented under the general title Sisters Across the Century.
"I could not have continued with my work if I didn't have Edmonia Lewis to admire as someone who succeeded against all odds", Ms. Kendall says, referring to an incident in Ms. Lewis's life when, as a junior at Oberlin College, she was accused of killing two white classmates. The painting Let the World be Shaken but the Lawyer Shall Never Neglect That Duty Which He Owes to a Client: Oberlin, Ohio, 1859 from Michael Kendall's portfolio is dedicated to that incident. "To me", she says, "Edmonia's determination was a message to deal with obstacles in my life as challenges — not as dead ends."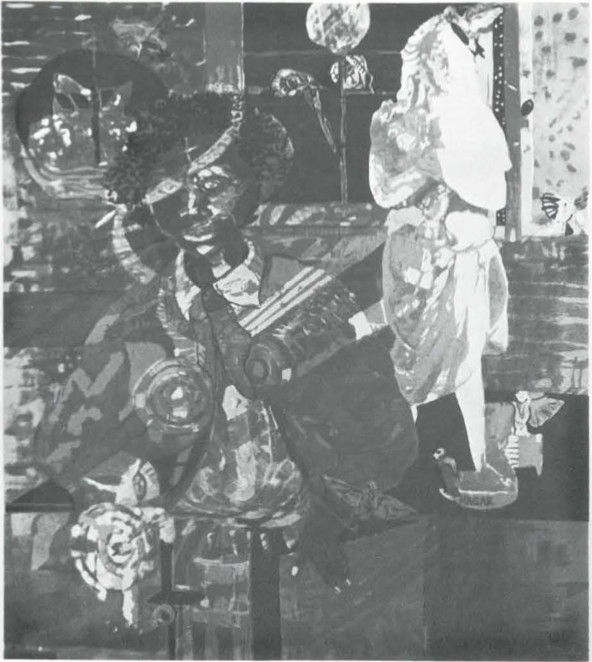 Artist Kendall became interested in the life of Edmonia while searching for Black American expatriate artists for a children's book she was writing. After reading bits and pieces on Ms. Lewis's life in numerous books, she decided to research her as thoroughly as she could and write her biography: "I felt obliged to make sure that Edmonia Lewis was in history." In her painting, Ms. Kendall has depicted Edmonia Lewis in her own studio, standing before her first major marble sculpture, Hagar.  Ms. Kendall has taken the figures from an original photograph, incorporated them into her own formula and created a Michael Kendall innovation: a polychromatic scale of eight colors, ranging from the most subtle shades of pearl gray, henna brown and sunflower yellow to a vibrant ink transparency that mysteriously comes to life, sometimes appearing like a Congo rubine, or sometimes an Indian red. There are also majestic hues of green: seawater, serpine and viennese.
Individually signed and numbered by the artist, all 300 prints in the Sisters Across the Century collection measure 28'' by 34''. The cost is $260 per print.
Michael, a graduate of Drexell University in Philadelphia, has a B.A. in Merchandising Design. Coming from a large artistic family, she points out that her style, approach and technique were formulated by the time she received formal training at the Philadelphia School Art League. Prior to graduating from Drexell in 1974, Michael had already exhibited her work in one-woman shows at Colgate and Drexell Universities and had lectured on her own work as well. Already, she had set her sights on becoming a master artist.
For three years Michael has been bald. She attributes her decision to shave her head to archaic remnants and psychic elements surviving in my mind from ages long ago. "It is something I felt would give me a stronger sense of self. "Refusing to accept the notion that she is an original artist, Michael asserts "Nothing that I propose is an entirely new concept. Each notion has its roots somewhere in world history. I have merely chosen to be one of the agents to synthesize them all into a viable vehicle for delivering communiqués to our generation. My mastery will be paint and logic. The algebraic formulas are merely the strategies."
Besides writing the biography of Edmonia Lewis, Ms. Kendall is presently working on a collection of t-shirts; embossed on the shirt is a graphic portrait of Ms. Lewis in navy and white. Available in regular cut, these t-shirts sell for $7. Ms. Kendall is also forming a committee to initiate the issuance of a commemorative stamp of Edmonia Lewis.
In the hope that Metaphysical Picturalization will become a well-known concept, Ms. Kendall instructs senior citizens and junior high school students on its application. So, it should come as no surprise if our children arrive at home with information on the concept of Metaphysical Picturalization — The Michael Kendall Creation.
Head Photo: "Metaphysical Picturalization — Wine, allspice and sugar, 1858", Acrylic.
Keep reading this issue – next article