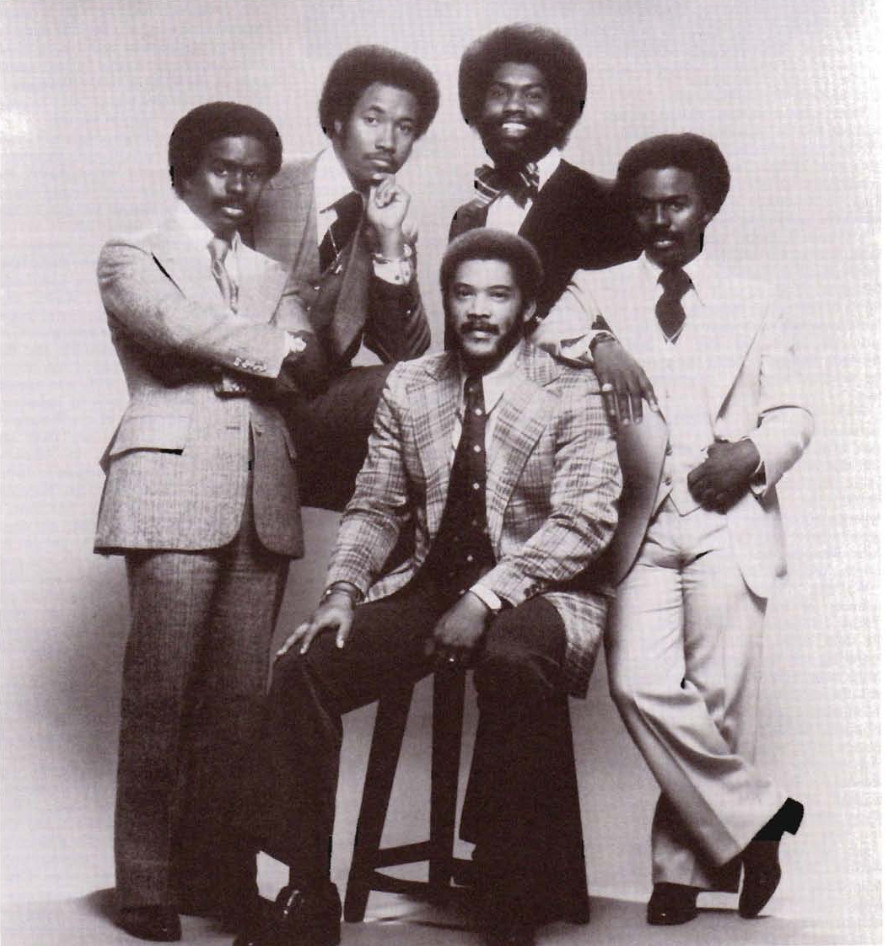 The Whispers have labored in virtual musical anonymity for over a dozen years, crooning soft ballads and conveying messages. Their success? — perhaps a couple of degrees above mediocrity. Oddly, though, the group had to betray the name,— invent a thumping bouncer — And The Beat Goes On, and coax America to the dance floor to see their names in lights. Their latest album, The Whispers, sold more than 300,000 copies in less than a month after its December 1979 release.
Their sudden success proved to be nothing short of a miraculous recovery for the group, who could list as their major gig for 1979, a five week tour as the opening act for Evelyn Champagne King, a newcomer who hasn't made waves for quite some time.
"Without a doubt," explains Walter Scott, half of the twin duo in the group, "this album is the high point for the Whispers. It gives us a sense of the worth of that adage "hanging in there." Scott's enthusiasm is understandable. It took the labor and love of twelve previous albums to bring the group to the point of being an overnight success.
With an album destined to go platinum under their belts, the Whispers have now embarked on a nation-wide tour that will carry them to over 70 cities where they hope to reach an estimated 500,000 fans. "When this tour is over, America will really know the Whispers," beams mentor Dick Griffey, president of Solar Records, who, along with Leon Sylvers, produced the Whispers.
Wallace 'Scotty' Scott, who balances the Libra scale of his twin brother interjects, "When you've paid the dues we've paid, you're sort of preparing for the possibility of good things happening. So we're ready to roll with the success punches the way we've rolled with adversity." The other group members, Nicholas Caldwell, Marcus Hutson and Leaveil Degree, all concur. Nicholas adds, "It's great having a hit, because it will enable us to do our thing in front of that many more people. We've always striven for wider recognition. Now it looks like we've got it."
Not all the recognition has been positive. The group, which espouses clean living and doesn't use alcohol or drugs, was probably more than embarrassed when last March group member Leaveil Degree was arrested on a stolen goods rap, which is still in litigation in a Los Angeles court. Degree pleaded not guilty and posted a $35,000 bond, which enabled him to rejoin the group on tour. He has the support of his fellow Whispers and as Nicholas says, "We can't walk out or turn our backs on people if they make a mistake. Loyalty is important."
Even though the disco single helped to open new doors for the group, it cannot be given all the credit for the album's current success. With the ballads on the LP, they have once again demonstrated their ability to put a special signature on any song style.
"For us to really be the best we have to prove that we can get into all contemporary music," explains Marcus. Scotty adds, "We do a little bit of everything — jazz, pop and funk. We don't have any one particular style." Keenly aware of the dancing and get-up-and-clap mood their hit single has created, the Whispers have changed their show to include the rousing numbers that the audiences, who know them only from their latest hit, will want to hear. But it can hardly be said that the group has abandoned its original intentions.
The ballad, in fact, was the group's bread and butter over the years. That they should score with a disco-oriented hit is a strange twist indeed. Walter explains that the Whispers were basically a message-oriented group that was interested in the ballad that told a story.
One ballad that adequately fits their image is A Song for Donny, a ballad dedicated to the memory of the late Donny Hathaway, considered to have been one of contemporary music's great creators. The Whispers, along with Griffey, have started the Donny Hathaway Scholarship Fund. The idea was born last October as the Whispers were preparing a Christmas album, Scotty, who shares lead with his brother, was rehearsing a mellowed version of Donny's tune The Christmas Song, when the group decided they had to do something befitting Hathaway's musical memory. The melody was given new lyrics by singer/writer Carrie Lucas. The Whispers donated $25,000 to Hathaway's wife and children and announced that the proceeds from the sale of the single version would go to a scholarship fund for underprivileged children.
Hathaway, who died last year, had worked with the Whispers, and they shared mutual admiration.
Only a choice few music experts are aware that the Whispers have long since paid their dues. They toiled in musical limbo for many years. They appeared to fit that category of groups that either had a limited audience or a more regional following. But they did manage to warm the stage for many of the most prominent black singers. Those many years in the wings gave the Whispers a polish and finesse that is now helping them cope with being at the top.
The Whispers complement their vocal chemistry with smooth and oftentimes cleverly coordinated choreography by Nicholas, who also sings second tenor. Nicholas boasts that all the guys in the group can really dance well.
The Whispers's flair for dance can be traced back to the twins, who started tap dancing when they were four years old.
The dynamic duo, Walter and Scott, grew up in Los Angeles and found themselves looking up to such groups of the day as the Four Freshmen and the Hi-Low's. They learned a lot about entertaining from an uncle who taught them the highs and lows of harmony, one of the trademarks of the Whispers' sound. When the two got their act together, they brought in Marcus, Nicholas and Gordie Harmon to form the Whispers. Seven years ago, Harmon was replaced by Degree. "At first," notes Marcus, "we were really just singing as a hobby. But after we got out of school, we decided to quit our jobs and really go all the way." Easier said than done, of course. They encountered all the problems that aspiring acts face — unscrupulous promoters, no gigs, or engagements at low pay and a path of broken promises.
However, the group feels that things took a turn for the better when they joined forces with Griffey. But it still took seven years for success to knock at their door.
At least now, they think they are ready. "There's no relaxation when you have a hit record," says Walter. "We know what it takes to make it. We are mentally prepared, but it's physically trying at times." At least the group isn't complacent — not by a long shot. They already have their own production company and want more than anything for their fans to realize how grateful they are for the years of support.
"It's nice to have a hit, but I doubt that we'll start wearing bigger hats because of it," says Walter. True or not, for the moment, I'm taking my hat off to the Whispers. They deserve it.
Keep reading this issue – next article