The hefty black woman performer has unfortunately been a figure of controversy throughout the history of film and television in the United States. During Hollywood's heyday, she was, almost without exception, cast in the role of maid or surrogate mother—seen by critics as subservient characters.
The connection between a big woman and negative stereotypes remains strong today. The Amsterdam News called Ain't Misbehavin a coon show because, among other things, it used two well-proportioned, talented ladies as central characters.
Does size therefore, automatically make a black woman a joke or stereotype? The debate, which still rages, has not spared Shirley Hemphill, the bossy waitress who proved to be crucial to the success of ABC's What's Happening during the mid 1970s.
More than once, Hemphill has heard the criticism that she and her fellow actress on the show, Mabel King, project negative, stereotyped images. Shirley, for one, doesn't like the static.
If you're thinking negative, she notes, then you can pick any program apart, because you don't like this or that. I don't think Mabel or I got our parts due to our appearance. You'd think they'd want to avoid that connection. We got those parts because we had the qualities those characters needed. Blacks have a hard enough time getting on television without having to fight that battle.
Shirley, understandably, has not let the debate over her roles get the best of her. The talent she talks about and which she showed off on What's Happening, caught the eye of her ABC bosses who starred her in a short-lived sit-com, One In A Million. The show's plots revolved around the adventures of a cab driver who inherits $10 million from a fare and finds herself elevated to the post of corporate president. Even though the show ran for only a few weeks, the experience on the set rich indeed, and it is that experience that Hemphill is ready to let off steam over constructive artistic steam.
In an interview with ROUTES, Hemphill said the ordeals of One In A Million were enough to make her never want to star in a series again.
Shooting that program was the toughest 12 weeks of my life. I knew I wasn't the only black woman in a comedy series, because Isabel Sanford was on The Jeffersons. I knew that Dianne Carroll had been the first black woman to have her own show, but I was the first in this time period and I'm not good at being the first. It was nice financially, she reflects, but I could never relax during the shooting.
She had no reason to be calm, because the show was put together quite hastily The pilot was pretty good, she admits, because the script had been carefully done. The show wasn't scheduled to be aired until February of this year. Instead, two weeks after the pilot, ABC said they wanted it for the winter season.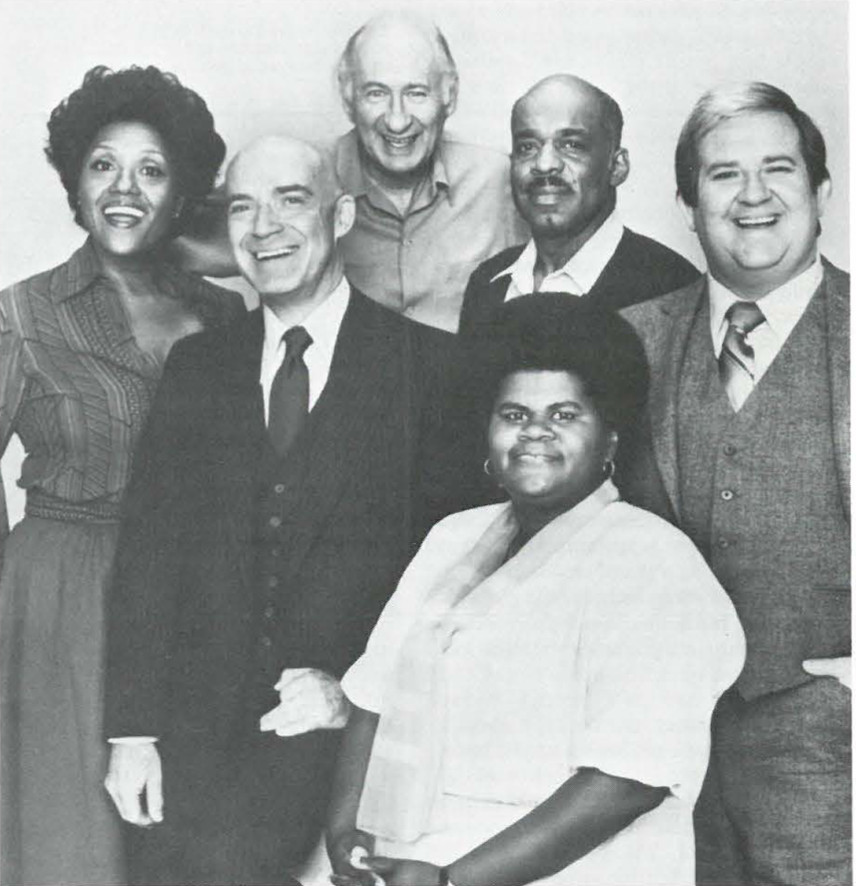 Usually, she explains, there are a few months during which a show ; is prepared. So they were literally writing shows on Wednesday that were taped Friday. There was no development of characters nor supporting players.
Questions went unanswered. Why would somebody who had just inherited $10 million still live in a raggedy old apartment?
At the time of our interview, the fate of One In A Million was still up in the air, even though it had been temporarily yanked from ABC's schedule. Hemphill is now awaiting word on whether more episodes will be shot. If ABC wants more, she'll return, if there are some improvements, she adds. Otherwise, this will have been her last leading role in a television series.
Does Hemphill have an ego problem? After all, who would turn down a crack at another leading role on prime time television? Well, she has her reasons. I just feel I function better in a supporting role without having to feel I have to carry the entire show. Besides, leading characters get cancelled. There is always work for a good supporting player. There you have it. Hemphill is in the enviable position of feeling confident enough to move from the starring role in one series to a supporting role in another.
Hemphill, in fact, hopes to get a pink slip from ABC, so that she can pursue a major supporting role in another situation comedy. She's under contract with ABC until July, which will prevent her from taking any offers from other networks at this time.
And to think she's only been in show business eight years! She was a medical receptionist in her native Asheville, North Carolina, the home of novelist Tom Wolfe. She used to crack up coworkers and patients with impromptu comedy routines. A supervisor suggested she contact Flip Wilson, who, at the time was starring in his own television Series. She sent Wilson a cassette of her routine and he responded with roses, an encouraging letter, and best of all, an inVitation to visit him on the set.
Using most of her savings, she travelled to Los Angeles, where Wilson sent a limousine to bring her to the studio. It Was a real thrill, she recalls. The only time people in Asheville rode in a limo Was when somebody died!
Wilson gave her a tour of the studio, explained the mechanics of putting together a television show, advised her on the pitfalls of show business and introduced her to ex-basketball star Bill Russell, whom she claims was the tallest man I had ever seen.
She returned to Asheville just long enough to tell her mother Mozella, that she was tearing down her North Carolina tents and moving West to California to become a performer.
She flew to Los Angeles and landed a day job at a fast food joint. At night she frequented showcase clubs, including the famed Comedy Store to sharpen her comic skills. Jane Murray, casting director for Norman Lear's Tandem Productions, was impressed enough to get her a non-speaking part in the just aired Good Times,'
Of her early California experiences, Hemphill sums up, First I was standing in the unemployment line behind somebody. Then three years later I was on Good Times — again as a juvenile delinquent. Lear, it was rumored, planned to take the character and spin off another series. While the move was being contemplated, Hemphill did the pilot of  What's Happening! which did well in the ratings for most of its tenure at ABC. With all its faults, Hemphill looks back on What's Happening! with optimism. It gave many black actors much needed work as well as using the black director Mark Warren. People don't know he directed most of our shows and was the original director of Laugh-In.
Sometimes the show didn't do what people wanted it to, she continues. There was not going to be a message in every show. It was a comedy and its main job was to entertain, which I think it did most of the time. Compared to what is on the air now, I wonder why they took it off! ABC would give its eye teeth to have our ratings now!
While awaiting the final disposition of her status with ABC, Hemphill spends her time playing tennis, rooting for the Los Angeles Lakers and looking for a new condominium. She's also busy with stand-up comedy work and she's planning a few little changes.
I'm on a protein diet and getting a shag cut for my afro. It's time for a new image.
Keep reading this issue – next article