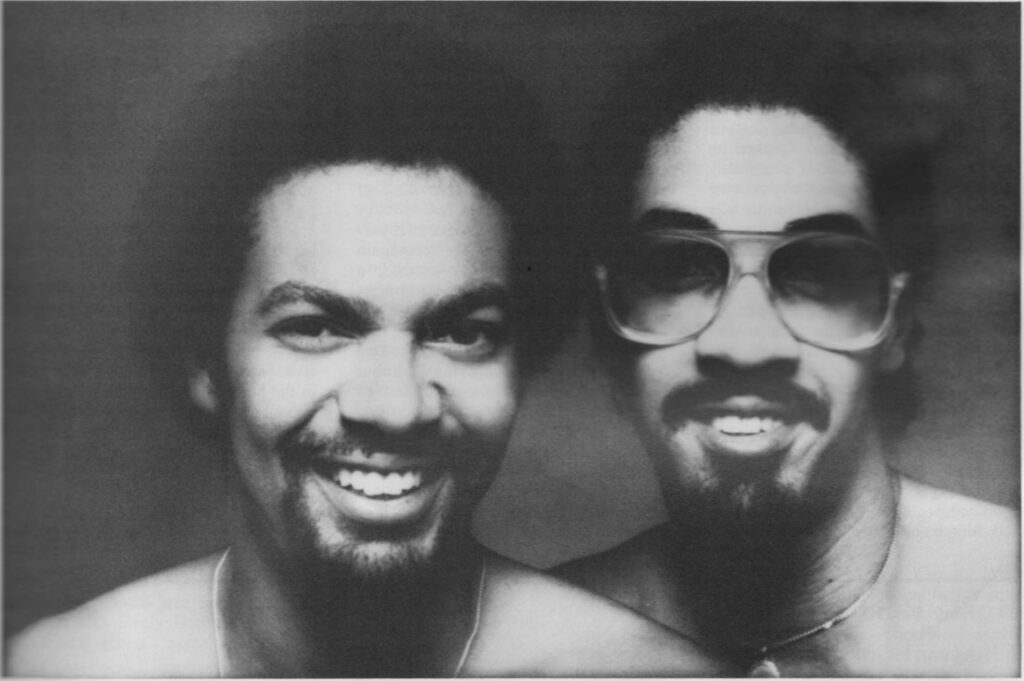 For the past four years, the Brothers Johnson, otherwise known as thunder-thumbs' and lightning licks have been literally taking the country by storm with their smooth brand of Sophisti-funk. And they don't just make successful records. They keep their fingers on the musical pulse of their following by embarking frequently on grueling multi-city tours to leave their faithful public anxiously awaiting the duo's next vinyl masterpiece, a recurring superlative applied to good albums. Today, George and Louis Johnson have recorded four albums: the first three went platinum and their current LP Light Up the Night has sold more than 800,000 copies and appears to follow the commercially successful pattern set by the first three.
I've seen the brothers in concert on several occasions, frequently with Rufus, and each time they were content to play second fiddle to a group who many feel can't produce as well live and who get airplay and album sales based more on reputation than quality.
The crucial link for the Brothers Johnson has been Quincy Jones, who produces both groups and discovered the fingers (George and Louis play bass and guitar) on a Chaka Khan demonstration record back in 1975. At the time Quincy said, "I want to meet those guys playing the guitars," and George remembered that when he and his brother got word of Jones's intentions, "we took everything we had ever written up to his house, and we've been together ever since."
"Even if we wouldn't have gotten anything out of it," he reflected, "I would have felt musically aware just because of the initial meeting. He's a master of all music."
Quincy Jones brought the Brothers Johnson into national prominence, even though they were not newcomers to the stage. While still attending elementary school in Los Angeles, they opened shows for the Supremes, Stevie Wonder and James Brown. The band, at the time called Johnson 3 plus 1, included their older brother Tommy and cousin Alex. The unit lasted from the third grade until they graduated from high school. "I played my high school before I even went there," Louis laughed.
After high school, in 1971, George joined Billy Preston's band and was joined by Louis a year later. But Louis wasn't sure if a career in music was his life's ambition. "At the time," he explained in a recent interview with ROUTES, "I was a psychology student in college. I was into that so much, I kinda didn't want to get back into music. Quincy had to write me notes to the teacher saying, he's been at my house rehearsing, but no one believed it until the day I left."
George said that his teacher, of all people, persuaded him to leave, in part because of his unusual way of studying. "I made songs out of my studies and prepared myself months ahead with the things I thought would be on the test. I was the only student in the class getting 100s on the test without books," he beamed. His teacher suggested, "If that's the way you study, you should really be into music."
Louis and George, who are now 25 and 26 years old respectively, taught themselves how to play their instruments. George took formal lessons for only eight months and picked up the rest by ear. Louis is completely self-taught and was given the nickname thunder-thumbs for his unusually quick plucking of the bass. He was accused by Larry Graham, who was riding high when the Brothers first hit the big time, of copying his bass style.
Of the accusation Louis rebutted: "I don't think it's right for him to say that's the way I play it and everybody's taking it. If it was his way, and he originated it, why do I have seven different ways of playing it and be has only one?"
The Brothers had been low key since their 1978 album Blam. A lot of it, they explained, had to do with the unabated proliferation of disco. "Disco had hit so hard," George explained, "and we didn't like it at all. So we decided to wait and let people get tired of it and then come back. It also gave us time off to spend with our families."
To a degree, the Brothers Johnson have held back on albums in order to do some musical and personal soul searching. As to life in the studios, Louis noted that when you have a producer, you have to do what the producer wants to do and not what you want to do. "On the first album, we did what we wanted, but on the second album, we had to do what Quincy wanted whether we liked it or not. Quincy wanted us to follow other musicians that he admired, instead of letting us make up our own kind of music and let them follow us."
Like many recent musicians and performers, Louis has opted for born-again Christianity and plans to produce a religious album after their next concert tour. He explained his choice revealing that "I felt it necessary because it makes me feel hypocritical playing music about dancing and gettin' the funk out of your face and not really saying anything nice."
"You can have a song," he continued, "and it may not necessarily have to say Jesus' name, but it can just tell people to do the right things in life. They can party and have fun, but clean fun. I don't use drugs, but I used to when I was crazy and I found out that drugs can kill you."
"Louis's switch from funk to faith may alter the music of the Brothers Johnson," he conceded. "This music that we're playing is built on a feeling," he declared. "What I like about Christian music is that it's about a spirit. I'm not worried about selling millions because you don't need a million to live on, you only need a little bit."
Only time will tell if the music of the men who brought you Get The Funk Outa My Face will change. So far, everything they have done has been somehow successful. One might rightfully ask how much you can change a formula without altering the results. More than likely many fans will fear that Louis's aspirations will interfere with the group's output, even though there is as yet no apparent change in their stage production.
Perhaps those fears reflect the inability to feel and sense what has transpired in the heart and soul of Louis Johnson. In any case, Louis seemed to be happy about his new direction and said, "If Jesus came back tomorrow, and he came to our concert, I'd want him to feel comfortable."
Keep reading this issue – next article