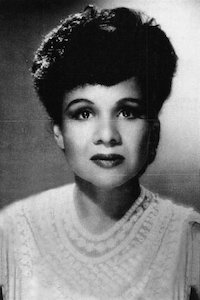 Ron, please compare to https://en.wikipedia.org/wiki/Katherine_Dunham
It is all too often that we hear stories of great individuals who have fallen on hard times. We have a tendency to believe that celebrity automatically translates into great wealth, and it is difficult for us to imagine that a person whose creativity has enriched our world is not living out his or her life in comfort.
Sad to say, such is not the case. In recent years, we have seen such African-American stars as Sammy Davis, Jr., Redd Foxx, Melba Moore and Isaac Hayes go bankrupt, and although their financial wounds have been mostly self-inflicted, it still pains us to have our image of these idols shattered — to realize that they were, after all, only human.
It has just come to our attention that yet another beloved figure is experiencing severe financial problems, but Katherine Dunham did not squander her money on fancy automobiles and mansions with swimming pools.
This distinguished lady has devoted her life to the study and dissemination of Afro-Caribbean culture, and to mixing world class entertainment with joyful lessons in black artistic achievement. The Katherine Dunham Dancers became a world-wide concert fixture and in such cities as Copenhagen and Stockholm, the troupe's annual visits were considered major cultural events.
Born in Joliet, Illinois, in 1909, Ms. Dunham is a legendary figure in modern dance, a pioneer whose keen sense of history and penchant for preserving it has enriched not only the dance world, but the twentieth century's cultural scene in general.
It was in the Thirties that she first stepped into the national spotlight — a slim, startlingly beautiful woman with seductive eyes and limbs whose movements defied convention and, indeed, the very rules of anatomy.
"I never thought of myself as sexy," she once said. "I did not separate the physical act from its cultural context, from its spiritual meaning."
Katherine Dunham did not invent modern dance, as some have claimed, for that distinction belongs to such pioneers as San Franciscan Isadora Duncan, who, in the early part of this century, liberated dance from its classical ballet traditions by developing an unfettered style that somehow took its cue from Ancient Greece. Nor was Ms. Dunham the first black dancer/choreographer who looked to her heritage for material.
Elements of African and Caribbean origin had been performed on American stages at least since 1893, when dancers from Dahomey appeared at the Chicago World's Fair. In the Thirties, New York theatergoers saw Asada Dafora's Kykunkor, a dance opera featuring modern interpretations of African ritualistic dance. Then, in the early Forties, came Pearl! Primus, an extraordinary young performer who moved on stage to the accompaniment of blues and spirituals, often incorporating African elements.
It was, however, Katherine Dunham who most effectively and authoritatively fused modern dance with African-American and Caribbean traditions. When she made her New York debut, in 1940, the New York Times reported "her sense of rhythm, theatre and costuming and her wonderful performers — as well as her choreography and dancing — put serious Negro dance on the map once and for all."
Ms. Dunham's troupe made several appearances on Broadway in the Forties, and it wasn't long before Hollywood, ever on the lookout for things exotic, began focusing its cameras on her work, The most memorable result of this association was the 1943 film Stormy Weather, which starred Lena Horne and Bill "Bojangles" Robinson, and featured Ms. Dunham's dancers as well as Fats Waller and Cab Calloway.
The authenticity of Katherine Dunham's choreographic forays into African and Caribbean culture was no accident, for she had studied anthropology at the University of Chicago, and she meticulously researched each source of inspiration before drawing upon it.
After World War II, she continued making successful Broadway runs and began her annual concert tours of Europe. "It is," wrote a Danish critic in 1948, "as if this bronze beauty had picked up the Caribbean and deposited it here, on our stage – you want to leave your seat and writhe down the aisle, but you know that you could not possibly duplicate such extraordinary movements."
In 1963, Ms. Dunham's created the ballet sequences for that season's Metropolitan Opera production of Aida, and thus became the Met's first black choreographer.
In the late Sixties, having won the hearts of dance lovers throughout the world, and having received some of her profession's highest honors, Ms. Dunham retired from the stage and took up residence in Fast St. Louis — not far from where she began her illustrious career.
But this was not a retirement, for she continued her research, established a dance school and founded the Katherine Dunham Museum.
East SU Louis is a city of neglect, a victim of gross mismanagement and human deprivation; in this hub of social decay, Katherine Dunham has reached out to the children. "Learn how to overcome little things a centimeter at a ting," she tells them. "Then, when bigger things come, you are prepared, you are not taken by surprise, not even angry or upset. It just rouses your spirit to da more."
Today, as she battles hard times, social disarray and environmental disasters, the Katherine Dunham Museum's priceless collection of memorabilia is also in jeopardy.
The costumes that so vividly brought to life her Diaspora vision are deteriorating, and the building that houses her writing and research archives has broken windows (the work of neighborhood children), no heat, and destructive mildew. It would be a crime if this remarkable woman and her life's work were allowed to continue being neglected. At 85, Ms. Dunham is a tower of strength, and she carries on her humanitarian work as best she can under the circumstances (you may recall her fast in behalf of the Haitian people, a couple of years ago). Last month, torrential rain broke through the roof of her house and caused a severe flood, but she seems undaunted by the milieu of erosion and empathy that surrounds her.
If, at this point, you are wondering how you can help this lady, who herself has helped so many over the years, be advised that there is a way. You may send your contribution to Katherine Dunham Projects, c/o Routes, P.O. Box 20103, New York, NY 10011. We will forward them to the Caribbean Cultural Center, which has taken the initiative to provide help.
The Center has also prepared a form that suggests other ways in which you might assist in this worthy cause; to obtain it. Please call (212) 307-7420.
See the complete issue of Routes, A Guide to Black Entertainment July 1994 as PDF.