Jimmy James Greene's "Easter Ritual"
Jimmy James Greene began his professional career as the mural apprentice for acclaimed painter Jon Onye Lockard. Under his direction, they produced murals that are installed in Detroit's Wayne State University Center, Central State University in Wilberforce, Ohio and at the Center for Afro-American and African Studies at the University of Michigan. After graduating from RISD, the Rhode Island School of Design, Greene moved to Brooklyn, New York and continued to paint, draw, create collages and mosaic stained-glass pieces.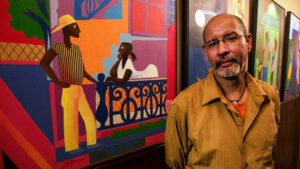 His work has been shown in over thirty fine art solo exhibitions, and he has participated in many group shows as well. As a commercial artist, Greene has created theater posters and compact disc covers, as well as illustrations for magazines and book covers. He was included in Dr. Myrah Brown Green's book Brooklyn On My Mind: Black Visual Artists From the WPA to the Present (2018; Schiffer Publishing, Ltd.)
Four of his public artworks are located in Brooklyn; three in Bedford-Stuyvesant and one in East New York. One of these is installed in the Utica Avenue subway station and another is a mural at Herbert Von King Park.
Greene has made a conscious effort to speak to the African-American community by making direct references to its history, culture and aspirations. He places his work squarely in the legacy of the Black Arts Movement. Much of his early work addressed the topics of racial identity and social critique. 
Multi Material Collage "Easter Ritual"
This work is part of Greene's Ancestral Layers, a series of two-layered artworks he began in 2000. The top layer of these is done on plexiglass, using transparent enamels on one side and opaque acrylic paints on the other. This painted plexiglass is then placed over a collage base that relates visually and thematically to the image on the plexiglass. In the final work, the two layers visually and thematically interact with each other. 
In Easter Ritual Greene used a vintage photograph as a reference for creating art. He wanted to keep the feeling of an old, faded picture like those found in family albums, of youngsters dressed up for an Easter church service. On the collage background, he used shapes cut out of painted canvas to look like the strip weaving found throughout West Africa. A primary goal of Ancestral Layers is to put ideas together that are not usually associated with each other. In this case, a Christian holiday and an African reference show a cultural continuum between Africans and African Americans. This unexpected juxtaposition is alluded to by the title and use of transparencies that emphasize the interaction of the foreground and background, abstract and realistic, and both recent and distant pasts.
Latest posts by Ronald Bunn
(see all)