Quotations of Martin Luther King, Jr.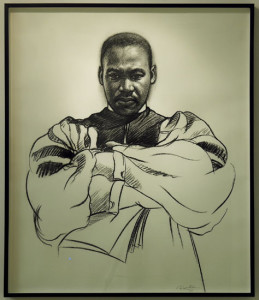 In the 1950s and 60s when Martin Luther King, Jr. was leading the fight for Civil Rights in America, video footage of peaceful black protesters in the south being beaten bloody by armed police wielding batons, or bitten by attacking police dogs, or jolted by fire hoses at full throttle, shocked the world. Their crime was daring to sit in restaurants and drink at fountains restricted for whites. The violence was excessive, unnecessary and unconscionable anywhere, but this was particularly disturbing because it was happening in America… the land of the free! And things changed… or so it seemed.
Over 50 years later, we've seen hundreds of videos of unarmed black children, women, and men all across America being murdered by police who not only receive immunity, but are often promoted in spite of their crimes. The world is no longer shocked. There is no Martin Luther King, Jr. today leading the outcry. Instead, dissenters protest the protest of "Black Lives Matter." Here are a few of King's teachings that may help to buoy our faith when American justice appears hopeless:

Never forget that everything Hitler did in Germany was legal.
Injustice anywhere is a threat to justice everywhere.
Forgiveness is not an occasional act, it is a constant attitude.
Let no man pull you so low as to hate him.
We must live together as brothers or perish together as fools.
Darkness cannot drive out darkness: only light can do that. Hate cannot drive out hate: only love can do that.
I have decided to stick to love… Hate is too great a burden to bear.
Our lives begin to end the day we become silent about things that matter.
In the end, we will remember not the words of our enemies, but the silence of our friends.
There comes a time when silence is betrayal.
Faith is taking the first step even when you can't see the whole staircase.
The ultimate measure of a man is not where he stands in moments of comfort and convenience, but where he stands at times of challenge and controversy.
If you can't fly then run, if you can't run then walk, if you can't walk then crawl, but whatever you do you have to keep moving forward.
Everybody can be great…because anybody can serve. You don't have to have a college degree to serve. You don't have to make your subject and verb agree to serve. You only need a heart full of grace. A soul generated by love.
Only in the darkness can you see the stars.