Nnenna Freelon doesn't put too much stock into what people think of her anymore. That goes for the type of music she wants to make and the way she wears her hair.
The Grammy-nominated artist's fresh attitude is front and center on "Time Traveler," her first new look recording in over a decade. The album art features Freelon sporting Bantu knots in her hair and bright flourishes of paint across her face.
"There was a time in my life when I really cared about my image," says Freelon. "Now I'm in my 60s and I'm having fun. I'm going to do what I want because that's the most important thing."
The journey to Freelon's newfound ethos was tumultuous, to say the least. After her husband Phil Freelon was diagnosed with ALS in 2016, Nnenna took time off from her career to stay by his side. Phil passed away in 2019.
Quantifying the Freelons' impact on Black arts culture during their 40 years as a couple is a monumental task. Phil was lead architect for the Smithsonian Institution's National Museum of African American History & Culture. Nnenna is one of the most respected performers in jazz music, having worked with the likes of Ray Charles, Aretha Franklin, Herbie Hancock and Anita Baker.
Following her husband's death, Nnenna also lost her younger sister to cancer and watched her dog pass away. Then came the pandemic.
"Everything kind of layered on top of each other and overlapped," Freelon recalls. "Grief can be very isolating. You lose someone and you feel like it's just you. The pandemic brought a sense of everyone's feeling this way and there you are with your own weight that you're carrying. There's this frustration and losses upon losses. There had to be somewhere for that to flow."
Freelon channeled that grief into her music. The result is the most intimate album of her career. Freelon calls "Time Traveler" a "love letter" to her late husband. The album features 11 tracks, nine of which are songs the couple cherished throughout their lives together.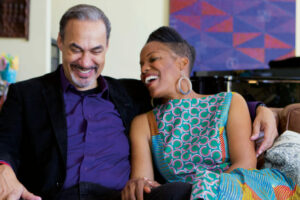 "One thing I learned in choosing the songs and living with them is how interesting a song can change its face on you depending on what you're dealing with," Freelon says. "This record came out of my experience with young love. Some of these songs came from when I first met my husband and they resonated with that time of my life. Looking at them now, since he passed away, it just has a different vibe."
Perhaps most prevalent is the Freelons' love of Marvin Gaye. "Time Traveler" features a medley of three Gaye classics with singing partner Tammi Terrell: "If This World Were Mine," "Ain't Nothing Like the Real Thing" and "Ain't No Mountain High Enough."
"With a tune like 'Ain't No Mountain High Enough,' it really feels like a mountain you're climbing when you're dealing with illness and changes in the body and dealing with death, looking at its face and having it sit with you," Freelon says.
"But on the other side of that, with my husband somewhere else, he's still with me. I just felt like that song was the perfect way to be in grief but also say we are together in a different way. I'm having a spiritual relationship with a man I've been with for 40 years. He's still with me in that way."
The themes of the songs were one thing. But Freelon was also recording music from legendary artists like The Stylistics ("Betcha by Golly Wow;" "You Make Me Feel Brand New"), Dionne Warwick ("I Say a Little Prayer for You") and Jim Croce ("Time in a Bottle") that have been covered hundreds if not thousands of times.
Working with musical director Miki Hayama and a stellar group of session players, Freelon brings her own sense of intimacy to each song. Standout moments include Hayama's opening piano solo on "Moon River," Keith Ganz's moving guitar playing on "You Make Me Feel Brand New" and Gerald Veasley's bass guitar work on "Time After Time." And it's all held together by Freelon's stunning voice that transmits raw emotion.
"With a cover of a song, there's a tether to you and the song and the song to you," Freelon says. "The challenge is trying to say what you want to say in a way that you want to say it. Sometimes the version that exists by the original artist is so strong you're like I can't think of another thing to do with it. When I sit down, I get quiet and ask the song to give me what I want to get from it. Then it hits you in some kind of way."
"Time Traveler" wasn't the only project Freelon channeled her grief into. She also launched "Great Grief," a new podcast in partnership with North Carolina Public Radio. "Great Grief" is an extension of Freelon's lifelong commitment to journaling her thoughts and ideas. Though, if you told Freelon a year ago, she'd be producing a podcast, she'd call you crazy.
"I was very resistant to do it, initially, because it was personal," Freelon admits. "But when I shared my stories with a friend of mine, they were like, 'Girl, this is a podcast. You're sharing your story of what's going on in your own head, but it's also very universal.' It's true. No one gets better sitting in a room in the dark. That doesn't happen. We heal as a community.
The first three episodes of "Great Grief," which launched June 4, cover complex topics such as the relationship between light and dark, and whether marriage ends when one partner dies. Freelon says she's already planning the next season of the podcast that will feature another 6 episodes.
"An album is frozen in time. You can extend it by jumping up and down, but it sort of has a shelf life," says Freelon. "Podcasts are ever refreshing. With each new episode, you gain a great understanding of this ongoing thing. It's a different opportunity every week to engage in a different subject sometimes in a little bit of a different way."
Freelon says she's just as likely to sing as she is to talk on her podcast. And she should have plenty to sing about moving forward. In addition to the cover songs on "Time Traveler," Freelon recorded two moving originals: "Just You" and the gripping title track. It's those two compositions that foreshadow the next step in Freelon's musical journey.
"Frankly I've covered songs that others of have written for most my career," she says. "And that's great. But I've put that songwriting energy into other people's compositions. Now I feel ready to put that into my own songs. With what I've gone through, I've already had my head inside the lion's mouth. Now, I kind of feel anew."