The legendary "Godfather of Soul" James Brown was ecstatic when saxophonist Pee Wee Ellis blew his horn. But, perhaps just as important, without this 77-year-old style-defining composer, song writer and arranger, the exciting "Funk" sound of the late 1960s would never have had the dynamic arrangements, driving rhythms and crisp brass sections that we've all come to know. In the 1970s, Pee Wee along with Maceo Parker and Fred Wesley founded the legendary JB Horns—the most worthy representatives of the James Brown heritage. His rootedness in jazz has not fallen along the wayside, but remains in high esteem—even honored: Pee Wee holds an Honorary Doctorate degree from the University of Bath Spa, United Kingdom. He is now one of the last giants of his era.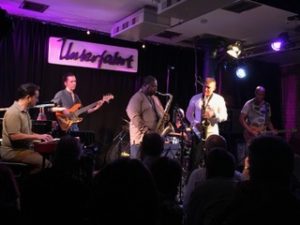 In the renowned Munich jazz club Unterfahrt, Pee Wee's August 24th and 25th performances "Guido May 'Groove Extravaganza' featuring Pee Wee Ellis" spanned the arc from Funk to Jazz. In conversation with Routes, A Guide to African-American Culture, Pee Wee is modest, humorous, warm-hearted and ingeniously mischievous.
Q:Mr. Ellis, you are considered the inventor of "Funk"? Do you sometimes feel too committed to this genre?
A:Well, James Brown was involved in the "Funk" invention, too. For me, Funk and Jazz are my basic principles. But Jazz always comes first. I was a Jazzhead when I joined his band. At the time, I just wanted to earn enough money from him to afford to play Jazz again. I did not think that it would take that long.
Q:Six months after joining the band, you became its musical director. The Cool Jazz riff "Cold Sweat" gave the band a new direction. How did this first characteristic Funk hit come about?
A:One night after a concert in New York, JB called me into his dressing room and said he had an idea for a song. He intoned a rhythm and sang it to me. I then worked on it on the bus from New York to Cincinnati. I started to design the bass line to "Cold Sweat". I had Miles Davis and his "So What" in mind. I repeated the part of the winds again and again. My jazz soul influenced me and sneaked into his R&B sound, and it came out Funk.
Q: And did the "Godfather of Soul" realize that you had jazzed him down?
A:No. He thought that was from him. Everything was always from him. (Laughing) I was young, enthusiastic, and fearless. I just did it. James Brown had confidence in me and I appreciated the creative collaboration with him very much. To be on stage all the years behind him was an irretrievable experience. I happened to meet Miles Davis in New York City when I was still playing with JB. We wanted to do a record together. But it never came to that. I'm friends with Jimmy Cobb, his drummer, who also appeared on "Kind of the Blue". We've also performed together.
Q: It's rumored JB led his band with an iron fist and disciplined his musicians.
A:Yes, yes. Everything was just focused on him. You always had to pay attention to him, his every movement. He just had more rhythm in his little finger than most of us have in the whole body. We had two drummers, one played and the other waited for James Brown's signals to improvise. That was the dynamics of the music and that's where people got to know each other. It was not unusual for the band to perform three shows a day, six days a week.
Q: Is it true that the "Hardest Working Man in show business" punished his music troupe when someone was caught playing a false note, or his clothes were inappropriate, or his shoes were dusty?
A:Yes, we had to pay a fine for them. But the money was said to be collected for Christmas and would be given back to us. But that never happened. We never saw the money again. But our shoes were shiny. Despite his sometimes despotic attitude, he was just awesome.
Q: The biopic "Get on up"directed by Tate Taylor told JB's dazzling life story. The rapper Tariq Trotter portrays you. Do you feel he got it right?
A:No. I was not asked at all during the filming. Nobody came to me to really inquire about the true story. In my opinion, the whole thing is a disaster. Spike Lee was supposed to be directing. If you really want to know what happened then, check out the documentary by Alex Gibney, "Mr. Dynamite: The Rise of James Brown ".
Q: The death of the "Godfather of Soul" marked a musical and social break. How did you deal with it?
When he died, my phone kept ringing. Everyone wanted us to perform. But the three of us, ex-JB front men Fred Wesely, Maceo Parker and myself, just thought it was too early. That would have seemed disrespectful to us. Two years later, I started "Still Black Still Proud – An African Tribute To James Brown" after Nick Gold from World Circuit Label approached me. Many African artists, including Omou Sangare from Mali, Cheik Lo from Senegal and "Grammy" winner Angelique Kidjo, told him again and again how much Africa had influenced Funk. And finally, how all those rhythms and blues had come from Africa.
Q:With Fred Wesely and Maceo Parker you founded the legendary JB-Horns before that. Are you still friends?
A:Sure, this friendship is very important to me. Musically, we all have the same background, coming from the same school. We love the swing big band sound of Duke Ellington and Count Basie. Fred also played with Count Basie. We understand each other automatically.
Q: Sonny Rollins, alongside John Coltrane and Lester Young, one of the great tenor saxophonists in jazz history, was your teacher. How did that happen?
A:I met him at 16 years old when I went to a music store on Broadway, where I was having my saxophone repaired. The guy who was waiting in front of me to picked up his instrument was Sonny Rollins. I asked him if I could have lessons with him and he actually said "Yes". That's the reason I flew from Rochester, New York to NYC every Wednesday for a whole summer. For the week, I played in a club for $90. The round trip flights, alone, cost me $25. Sonny Rollins was very generous. He only took seven dollars for two hours of lessons. His tremendous musical knowledge gave me a foundation. That helped me to develop my talent and shape my style. He taught me how and what to practice. With him, I felt like a kid in a shop full of sweets.
Q: Are you from a musical family?
A:Not directly. But my stepfather Ezel had organized concerts in small clubs in Lubbock,Texas. And so musicians were always at home with us. I had already learned piano by that time. One of them showed me "In My Solitude" on the piano. Sometimes my dad got me out of bed to assist the band if one of the musicians failed to show up. He also gave me what I did not have as an illegitimate child before: the love of a father and he adopted me.
Q: You tragically lost your step father in a racist attack.
A:Yes, I can hardly talk about that today. It remains a trauma for me. I was 14 years old when he was stabbed by a white man. At the hospital, they refused to treat a black man. And so he died there in the corridor. My mother Elizabeth took both of my stepsisters and me and we fled Lubbock on a night train headed to Rochester, New York, a town near the Canadian border. We were refugees.
Q:I want to ask you about your input to the song "Say It Loud, I'm Black and I'm Proud".  What did you contribute to the writing of this song? What does this song mean to you? And what impact do you feel this song had on the young people who heard it and on the civil rights movement?
A:As soon as it was released, "Say It Loud, I'm Black and I'm Proud" was like a Black national anthem. We recorded it in Los Angeles, then went to NYC's Apollo Theater where as soon as JB said "Say It Loud", the whole audience yelled in response "I'm Black and I'm Proud…", that brought me goose bumps and made the hair on the back of my neck stand up … . That was an incredible touching moment. Maybe the proudest, knowing that you'd touched so many people so quickly and so deeply—it was humbling and quite special. That song made an impact on the civil rights movement in a positive way. I think it helped move it forward. It boosted young people's confidence and sense of self. And it's still serving the same purpose today, and in the same way.
Q: You've been living in England for twenty years now. Do you miss your home?
A:I'm sure I'll always be an American in England, although, in the meantime, I drink tea. But I'm already thinking about moving to Oakland, California once I retire. There I have many friends. After all, I'm still a fan of the San Francisco Giants. I even played in their band for a while.
Q: Does President Trump bother you?
I hope he is history by then. I still can not explain who elected him at all. I, definitely, did not. My candidate was Bernie Sanders.
On October 20, 2018, Pee Wee Ellis, Fred Wesley, Frank Greene, Lee Hogans, Steve Wilson, Rodney Jones, Eric Krasno, Robert "Mousey" Thompson, Nikki Glaspie, Gabu Lugo, and Janice Pendarvis will be appearing in New York City's Apollo Theater presentation "Say It Loud: I'm Black and I'm Proud at 50".  To be hosted by Christian McBride.