Review: "Barbecue" at The Public Theater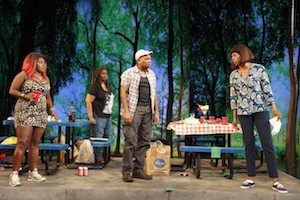 Playwright/Director Robert O'Hara is not for the faint of heart. His artistic expression is unapologetically raw. Robert says, "I lead an audience down a path, then push them into oncoming traffic." This applies to both the plays he writes and the plays he directs by other playwrights. I was blessed to be in a production of "A Raisin in the Sun" that Robert O'Hara directed in 2012. I thought his approach to the material was refreshingly new and bold, but Robert explained, "We are going to do the play that Lorraine Hansberry wrote!" A common remark during audience talkbacks of that production was, "I always thought this play had a happy ending." Enough said?
Barbecue by Robert O'Hara, currently running at the Public Theater, is another outrageous signature O'Hara production. Barbecue touches upon a wide variety of vices and violence through two sets of extremely dysfunctional families, one Caucasian and one African American, living parallel lives. Everyone is profane, provocative, high on something, loud, rowdy, and uncouth (oh, did I mention profane?) with the exception of Lillie Anne. She is the sister who has organized the picnic barbecue, and whose sole vice is being a "Stuck-up B**ch." When Lillie Anne explains to her brother, James T, that she called this family gathering to "… help (our) sister in her time of need," he counters, "I got four sisters in a time of need, one of which is you!" When Lillie Anne explains it's their sister addicted to crack, James T says, "I got two sisters addicted to crack!" When she tries to narrow it further, "The sister addicted to crack and alcohol," he bellows, "I got two sisters addicted to crack and alcohol!" Eventually Lillie Anne makes it clear that she's talking about their sister nicknamed Zippety Boom. The other self-destructive siblings arrive and the legend of Zippety Boom is described through recollections of past escapades, revealing that Zippety Boom is more volatile than all of her explosive siblings combined. Then Zippety Boom arrives and her first two words delivered toward the end of Act I, hurls the audience into an oncoming freight train!
It's difficult to describe the plot in greater detail without disclosing all of the devilish twists and turns. But all manner of propaganda that makes up the bedrock of American biases is served in liberal portions that either feed or fracture viewer prejudices. Barbecue is running through November 1st at the Public Theater so there is still time to meet this thundering roller coaster head on yourself!
Latest posts by Perri Gaffney
(see all)