"SUGAR RAY" at the New Harlem Besame Restaurant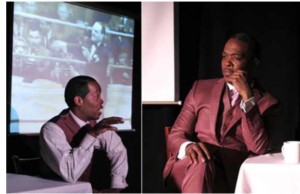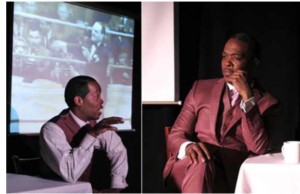 AUDELCO recipient Reggie Wilson was a knockout as the fabled pugilist, Sugar Ray Robinson, in the one-man show "Sugar Ray" by Laurence Holder. This New Federal Theatre's production (Feb. 28 – April 12) was particularly apropos as a temporary addition to the menu of the New Harlem Besame Restaurant since Robinson once owned most of that west side block from 123rd to 124th Street on 7th Avenue. Sugar Ray ran his business offices and Sugar Ray's Bar & Restaurant there in the 50's and 60's. Woodie King Jr. cleverly directed  Reggie—he  worked every corner of the intimate room, giving this patron the impression that we were all sitting inside a boxing ring as he danced, punched, played, and feinted from table to table telling the story of one of boxing's greatest gladiators.
Laurence Holder is known for penning historic plays that reveal little known or remembered facts about African-American legends. Sugar Ray was not only a fierce boxer but also a trained fencer and dancer and entertainer after retiring from the ring. But this production of "Sugar Ray" was made even more poignant when Wilson walked to or point to a particular table or chair and said "Frank Sinatra sat there!" or "Sammy Davis Jr. sat there!" It wasn't just a history lesson on celebrity get-togethers, but a fact that this was the actual spot where they sometimes got together!
The multi-media presentation of stills and moving images was effective in spotlighting some of the trials and/or triumphs in Robinson's life. But it was Reggie Wilson – with his explosive opening, entering from the kitchen wearing an apron, to his closing salutation before exiting to the bar – who kept the 75 minutes moving like carefully timed rounds of a title fight where this champ won by a knockout!
If you missed "Sugar Ray" this time around, then watch out for a future run at a theatre near you.
—Perri Gaffney