The Restoration of Gilbert Lewis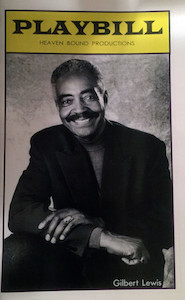 Gilbert Lewis was a powerful presence on stage, in film and TV. His chameleon talents made him the quintessential Troy Maxson in August Wilson's FENCES, the dapper and debonair hustler Shevvy in Barry Shear's 1972's black classic film Across 110th Street, a saucy Adam Clayton Powell in the Well of the House by Charles Mark, and an eerily aged alcoholic sage in Sty of the Blind Pig by Phillip Hayes Dean's, for a sampling. Lewis was the first man ever to grace the cover of ESSENCE Magazine, and they rejoined him for their 25th Anniversary issue because his first cover sold more issues than any other male featured on the cover. Gil left the stage to resurrect his poetic origins through MAXIMAL, his greeting card company where he created an entirely unique line of one-of-a-kind cards sometimes made of silk, cork, wood, leather, or suede and featured images sculpted from flower petals.
mmm
OPUS and DANCE is a poetic journey Gilbert Lewis wrote and performed with Marjorie Johnson, myself, and Donald Brown on piano at Cobi's Place in the heart of NYC's theatre district about fifteen years ago. Here are a few excerpts celebrating some of Gil's greatest loves.
SHEBA'S CHILDREN
We are extra sensory sixth sense people
running the course of the world.
Like the river we embody the flotsam
and jetsam of America's bestiality,
cleansing as we go.
We are music, the drum, the rhythm.
We are the articulators of the earth's heartbeat.
We are salvation.
We have the music of humanity in our bones.
We smile and forgive our trespassers
We have lost nothing.
Our gifts are the inexhaustible wealth of God.
We sing.
We sing. We make music.
We make the music of life.
We make the music of life and the world listens.
The world listens and imitates.
mmmm
 SONG BIRDS
Do birds sing as beautifully when they are ill,
 like Billie Holiday,
sad and beautiful?
Do they ever sing off key or miss a note?
Do they think that Ella Fitzgerald is as wonderful as she is?
Are they a little jealous of Sarah Vaughn?
If God hadn't trained their voices and wrote their songs
Do you think they would sound as beautiful in concert,
calling and answering?
Do you think that they would listen to Cassandra Wilson?
mmm
CASSANDRA WILSON
She's just enough friction to get you up a mountain
She's hot apple cider with a stick of cinnamon
on a cold winter night
She's not pretty, but she is beautiful.
She's an elixir!
She's a fixer!
She's a voodoo woman!
She's the truth!
Gil was a father, a mentor, our brother, and friend. Monday, August 17, 2015, a gathering of Gil's family and artistic allies paid tribute to the brilliance and beauty of the man with a heart big enough to hold the heavens. Notables in attendance included: Negro Ensemble Company Founder Douglas Turner Ward and NEC's current Artistic Director Charles Weldon; Producer/Artistic Patron Cobi Narita; Actors – Roscoe Orman, Dean Irby, and Barbara Montgomery; New Federal Theatre's Producer/Artistic Director Woodie King, Jr.; Director Ed Smith; Actor/Professor/Director Tony Major and others from as close as around the corner to as far away as Atlantic City, Texas, Florida, and Oregon. Gilbert Lewis was loved and he was a lover! He loved laughter and good people and poetry and music and dance. He loved art of every kind and truth and light and God.
OPUS and DANCE salutes many more people like Louie Armstrong, Sarah Vaughn, Muhammad Ali, and ideas like the need to keep striving toward your dreams no matter the odds.
I keep dancing as best I can.
The rhythm changes,
mthe tempo modifies,
mmthe stage shifts, but I keep dancing.
I keep dancing.
High stepping, stepping high,
mturning, Spinning, trying to fly.
If I stop I'll probably die.
I keep dancing.
I spin into problems, twirl out to solution.
It's all a dance called evolution.
I dance my way to restitution.
I keep dancing.
I'll keep dancing.
I won't stop.
If I can't leap, I'll just hop.
I'll keep dancing until I drop.
keep dancing.
Gilbert Lewis, born April 6th, 1936, was restored May 7th, 2015, but he is still here and always will be. Like a gift from the Magi, he offered us his understanding of life after transition:
Like a wave
I rolled up on the shores of the living.
And like waves, I am restored to the great ocean of life.
We are the out-breathing of nature.
We touch and we are touched.
We grow and transcend self.
We realize another sense of being
We move to the larger circle
We enter love, the embrace of God.
Rest well, brother Gil, until we meet again.
—Perri Gaffney