Ademola Olugebefola's Freedom Movement Morphs into Tri-Fusion
Ademola Olugebefola's artistic career spans the significant part of the radical change that began in the mid century roil of the 20th century when he answered the call to use visual arts as the lens by which to engage in nation building and defining his manhood by testing his metal against what was at hand.
Those of us who were not there to look at the historical injustices or to catalog the events that spurred the Civil Rights Movement, also cannot speak of the intersection of art and activism when talking about the Black Arts Movement. We are missing the personal details that set many on that path to place one's self, in those revolutionary times, when the community sought to wrest power from the violent realities of everyday life — defined, now, as the "Black Power Movement."
Historian Vincent Harding writes, so eloquently, in his essay "A Long Time Coming — Reflections on The Black Freedom Movement 1955-1972" in the 1985 Studio Museum in Harlem's curatorial "Tradition and Conflict – Images of a Turbulent Decade 1963-1973" in which Ademola's 1968 Woodcut, "Burden of Injustice" was included – "We were a long time coming. That much is sure. But who can say when it all began? Who can identify the precise origin of this surging human force which disrupted the nation's everyday life. It was insisting that the country had to deal with irrepressible issues of race, justice for all, democracy, freedom . . .."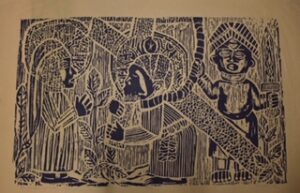 It was indeed "A Long Time Coming . . .." We can cut a wide swath discussing historical facts, but let us instead connect history with the personal. Bedwick Lyola Thomas, aka Ademola Oulgebefola, was born on October 2, 1941 in Charlotte Amalie, St. Thomas, US Virgin Islands. Bedwick came into prominence in the 1960s, in Harlem, USA, resulting from his role as a founding member of the Black Arts Movement. He credits himself, also, as one of the seminal forces in the founding of Afro-Futurism in the visual arts. He attended FIT for a semester in its formative years after graduating from Fashion Industries High School; he has studied, at the Printmaking Workshop founded by Bob Blackburn, the Yoruba Academy of West African Culture and the Weusi Nyumba Ya Sanaa Academy of African Arts and Studies — in 1969, he was Director of the Education Department and recipient of an Honorary Doctorate. In 1966, he was inducted into the Ogboni Council Of Elders, Yoruba Temple / African Theological Archministry in Harlem and was anointed and accepted the name Ademola Olugebefola. There are still a few rare paintings in existence, "Monk's Dream" and "The Fire Next Time", a tribute to James Baldwin – circa 1965/66. These are oil paintings before he started using acrylics and signed "Bedwick."
Ademola has exhibited in group and solo shows; significant among them are "Impact Africa" in 1970 and "Tradition and Conflict – Images of a Turbulent Decade 1963-1973", 1985 at the Studio Museum of Harlem and the University of Texas at Austin; most notable among them, Brooklyn Museum's "Witness: Art and Civil Rights in the Sixties," in 2014 that toured until 2015. It travelled to Dartmouth College, Hood Museum of Art, and Blanton Museum of Art, FESTAC 77, in Lagos, Nigeria — the exhibition of his multimedia construction/painting 'Shango', as part of the United States contingent representation.
Created in 1969, "Shango" has been exhibited nationally, as well — in major American museums, including the Dallas Museum; the High Museum; the Milwaukee Museum of Art; the Virginia Museum of Art; the Smithsonian Anacostia Museum; the Cornell University Museum; the Detroit Institute of Arts Museum. It has been written about extensively in catalogs, textbooks — it is generally recognized as one of the historic major symbols of the Black Arts Movement in the USA.
ROUTES: Tell us a bit about your journey up until now.
Ademola: I'm originally from the US Virgin Islands. I came to Brooklyn with my family when I was four years old. My father was a Merchant Marine and often away at sea, but he was a good father when he was on the back scene in the US. My mother and aunt along with two brothers were the dominant people in my life. Having a strong family foundation, I never fell into drugs which were prominent in my neighborhood. As a teen I read comic books to improve my reading skills. I drew political cartoons in high school.
ROUTES: What were some of your pursuits outside of art?
Ademola: I had a short career in music. I sang baritone in a doo-wop quintet that performed at neighborhood block parties. We sang for the joy of it. To a lot of young people, in those days, forming a singing group was important. For a couple of years, I played bass professionally at public and private events. I joined POMUSICART (poetry, music and art), a cultural music and art workshop which was founded by the trumpet player Calvin Strickland. (He was director of the Jazz Art Development and Research Project.) I found that to be a wonderful experience. It shaped my direction moving forward. There is such a thing as visual music. Sensory capacity as listening. At POMUSICART we'd breach that barrier as we listened to sounds and looked at images. It opened my perspective. Visual sciences can open up our minds to higher powers.
Ademola retired from playing music around 1965 to devote his energies full time to the "visual sciences." While serving as Art Director of POMUSICART during 1965-66, he began experimenting with capturing the sensory effect of sound in painting — the first painting was "Blues for Nat Turner Jazz Suite" – a triptych created for a series of POMUSICART avant-garde theatrical-musical performances at the Skyline Room in the former Theresa Hotel. These productions were reminiscent of traditional African Ceremonial Theatre with a contemporary sensibility.
This was the beginning of his multi disciplinary "tri-fusion" arts theories. He would blend genres that incorporated musical ideas and poetic rhythmic cadences into his paintings. His other music themed works include: "Rising Rhythm: for Leon Thomas & Pharoah Sanders" – 2009; "SunRa", 1995; "Coltrane's Calypso" – 2013; "Ode To A Cannonball Solo for J.Overstreet & William T", 2012; the mixed media work, "Stolen Moments: for Oliver Nelson & Eric Dolphy", 2013 and the iconic color woodcut print "Musicians Making The Harvest Grow", circa mid 1970s, in the permanent collection of the Schomburg Center For Research in Black Culture.
More recently, Ademola's 2007 tri-fusion exploration and experimentation came out of a multi-year residency at Chashama Studios that blossomed into the creation of his "New American Landscape Suite" (NALS) – it is more than 90 abstract expressionism works scaled in 4 x 4 inch miniatures.
Ademola: The birth of the NALS Suite is deeply rooted in my love of pure color. I have always been attracted to vibrant colors of nature. These episodes, vignettes and excursions into abstract expressions have allowed me to enjoy the excitement of exploring snapshots of waterfalls, meadows, sky, lakes, streams, valleys, mountains, forests, blossoms, fall, winter and spring foliage.
I found myself fulfilling a longing to explore the tenets, parameters and magic of nature and landscape with the scale of Abstract Expressionism in miniature – with a touch of rhythm.
In the mid-1960s, I met artist James Snead, who founded the 20th Century Creators, a group of artists, from the New York tri-state area, who put together an outdoor art festivals. The first one was an amazing event. People of African American descent, during those days, were known mostly for dancing and singing — but not for fine art. Inspiring and uplifting paintings could be seen lining Seventh Avenue. African Americans saw their lives projected in a positive light. Because of the enslavement of our ancestors, there were lots of derogatory images produced in commercial projects and the media — examples like Aunt Jemima and Uncle Ben's Rice.
The 20th Century Creators evolved into the Weusi Artist Collective founded in Harlem in 1965. The group still exists, except, we are now senior citizens. Back then, we were in our youthful 20s and full of enthusiasm about the future. I am very fortunate to have been a part of the Black arts movement. It was a great time for poets, writers and dancers who projected positive images of the community.
I am one of the founders of the Dwyer Cultural Center in Harlem. My personal art and career documents, Ademola Papers, are archived in the Schomburg Center for Research and Black Culture, a part of the NY Public Library system. I was one of the founding set designers for productions at the National Black Theatre, one of the leading African American theaters in the 1960s, 1970s and 1980s. I was also the resident set designer for the New Lafayette Theatre from 1969 to 1972; associate art director for the New Lafayette Theatre Journal;  and a graphic & costume consultant at The Public Theatre.
I joined the New Lafayette Theatre in late June 1969. I redesigned the stage and the sets for all productions beginning with "A Ritual To Bind Together And Strengthen Black People so That They Can Survive The Long Struggle That is to Come – A Black Ritual."
ROUTES: What types of media do you work in now? What's your artistic vision?
Ademola: I work in mixed media, painting and graphics. My vision is closely integrated into the nature of my work. Art can be transformative. The old adage "A picture is worth a thousand words" is an understatement. There's art therapy, it can heal. Colors have a definite effect on human sensibilities and the nervous system. Being one of the early members of the Nigerian Yoruba Movement, much of my work is about cosmic energy and connecting to the Yoruba. The Yoruba system is ancestor worship. We are not looking to a Christ or Buddha figure. We look at those who came before us, for example, to our grandparents and great-grandparents. There's a communality and power that informs our lives.
There's a force called Shango. It's the force of thunder and lightning. There's a lot of Shango in my work. There's also Oshun, the force of love. It's correlated, love and beauty. That force is elegance and sophistication. I believe in the philosophy that you are always empowered when you unify. All my life I've been attracted to organizations. Art is about upliftment. Art is about power. Expression is about bringing light to the world. It's intimately tied to my life's work. I would call myself a globalist. My people specifically, my broader vision is about humanity, period.
ROUTES: What do you think your legacy will be?
Ademola: It's on my bucket list to create environments, leaning toward architectures, generating entities and structures. For example, things that would reach the human consciousness of the mind. A person going in one door and coming out the another transformed. I also aspire to create empowering organizations, which uplift people.
In a reflective mood, the artists mused, "I am deeply thankful that the Ancestors have blessed me with the opportunity and awesome experience to work in a meaningful and exciting field and potentially making solid contributions to African America, art, theater and American culture."
Currently, Ademola is being featured in:
Dr. Ademola Olugebefola, is a founding Co-Director of Harlem's Dwyer Cultural Center. His art and career papers are in the permanent collection of The Schomburg Center for Research in Black Culture, The Studio Museum, Hatch BIllops Archives, The New York Library of The Performing Arts, The Nigerian National Archives, Howard University, New York Health and Hospitals Corporation, The Port Authority of New York and New Jersey, Johnson Publishing Company, Chicago, Fillmore & Fell Corporation, San Francisco, Northern Illinois University and the Virgin Islands Council on the Arts and a host of other private and public collections.
His mural commissions include: Chase Bank; Popular Bank; Greater Harlem Chamber of Commerce/Harlem Week;  the New York City Department of Cultural Affairs and the Harlem Cultural Council. He has served on the boards of various organizations including the Harlem Cultural Council, New York Arts Consortium and the National Conference of Artists (NCA) — the oldest and largest national organization of black artists in the United States. He's served as Vice President of NCA from 1973-1977, presiding over its Regional Development and Public Relations departments.
Latest posts by Donna Mason
(see all)