New Museum's "Grief and Grievance" Exhibit
Back in Spring 2000, while teaching United States history and government at Murry Bergtraum High School in Manhattan, I told my eleventh graders about a harsh but intriguing exhibition I'd seen at the New-York Historical Society. Called "Without Sanctuary: Lynching Photography in America," it was a remarkable and graphic study of the victims of lynching, almost all African-Americans, male and female.
My student Hamidul went to see the exhibition, and we discussed it. He had tears in his eyes as he explained that he'd no idea how horrific and pervasive lynching had been. Hamidul and I haven't spoken in over two decades, but I wonder how he would process the New Museum exhibition Grief and Grievance: Art and Mourning in America. This group show, running from February 17 to June 6, 2021, features paintings, photography, sculpture, video and multimedia works created by female and male African-American artists (some born outside of the US), and examines the scope of pain experienced by the African-American communities of the US, as well as in other countries.
Some of the works included here have the stark, shocking detail of the postcards and photographs that have documented American lynching culture, while others are more subtle, evocative pieces that explore the emotional and sociological aspects of African-American life in America. Taken as a whole, the show is heavy and painful, yet hopeful in its documentation of how African-American artists have grappled with racism, sexism, violence, artistic expression and mortality.
Thirty seven artists are part of this exhibition (see list below); only four are deceased. Twenty two male and fifteen female artists are included and their works differ greatly in style, topic, and use of colors. A few would be considered household names, such as Jean-Michel Basquiat, but all are notable for their works, as well as for their teaching, writing or activism. This collection of artists is still largely active, making art, and bringing points of view to ongoing conversations involving individual and group expression, cultural preservation, and emotional exchanges.
About half the pieces here showcase the human figure, in photographs, paintings, sculptures, video, audio. Others are abstracts or works that are centered on objects: plants, books, doors, pieces of clothing, small everyday items, and other manufactured things. One of the more disturbing, stark pieces is an overpainted hearse, decorated with occasional ostrich feathers, created by Nari Ward. Situated on the second floor, the deep weight of this hearse, which you can peer into, dwarfs the room in which it's displayed. The hearse rests atop a jumble of exhaust pipes that resemble human intestines; placed above like a gruesome, gray cloud, is an assortment of other car parts. Grieving is explicit in this piece but there is no human body.
Grief and Grievance is best seen in a top to bottom process: visitors begin by viewing the pieces on the fourth floor and make their way down to the first floor and common area in the basement. Each floor brings you into contact with different works, linked thoughtfully. But by starting with Rashid Johnson's large shelving installation on Four, as the elevator doors open, you come face to face with an unusual, life-affirming and intriguing multimedia piece. These shelves hold plants, pots of plants, video monitors, car stereo parts, and piles of books written by African-American authors (W.E.B. DuBois, Richard Wright, and others). Spend time examining the nooks and crannies of this display; it has touches of humor and can perplex you.
Also on Four are abstract paintings by Julie Mehretu. These are colorful and busy, but you can discern quickly that black and gray are dominant among the streaked hues. They have a storm- like quality, perhaps like flashes of light or lightning. Do they represent inner or outer turmoil? Do they reflect one person's vision or a communal bond?
There are many more traditional genres of works here: paintings, sculptures and photographs that range from portraits to abstracts, scenes of home and of mystery. But one of the pieces that touched me the most was by Hank Willis Thomas: 14,719 is made up of deep-blue banners with white stars. At first blush it seems like a patriotic exploration, but it is a memorial to the 14,179 people shot and killed during 2018 in the United States. The banners hang from the ceiling in procession and you follow it as you walk down the stairs between two floors. Look at this from different vantage points and ponder this number. How can it be true? But it is. And the sadness is turned into an unforgettable piece of art.
On the second floor, Dawoud Bey's series of black-and-white photographic portraits is a beautiful tribute to African-American men and women, adults and children. It features fourteen portraits, in seven pairs. They are paired up by gender, similarities of pose (folded arms, leaning head on one hand, etc.) and show an older person with a younger person. The settings are all the same (plain room, a single light in the back). Everyone looks directly and frankly at the viewer. Are you in conversation with them? Were they in conversation with each other? Or is everyone just caught in thought?
Diamond Stingily's Entryways is a seemingly simple piece; three doors, locks installed on each, and a baseball bat propped up at an angle against each. The doors, locks and baseball bats are not identical but they are a cohesive set. What could they be? They were inspired by Stingily's grandmother, who kept a bat handy by her door, for protection if necessary. Without any typical artwork connected, and lacking a text, this set could be viewed in many ways.
Visitors are drawn to the single Basquiat piece included in this show, Procession (1986). You cannot help but be thrust into this work if you walk out of the elevator on the third floor. Four black silhouetted figures, perhaps zombie-like, are approaching an African-American man, who holds a skull above him. When examining Basquiat's art, it's difficult to avoid thinking that you are looking at the work of a young art superstar, gone too soon. Push aside the hype and take it in. The ghosts of his work are many, and I too am guilty of staring at his pieces and thinking about these things (and also knowing that he and I attended the same high school, Edward R. Murrow, although not at the same time, and he didn't graduate from there).
The origins of this exhibition are also particularly important to understanding its many missions. The initial driving force behind conceiving and developing this exhibition was the late Okwui Enwezor, a curator, educator, writer and critic. His vision for Grief and Grievance was expansive, and he brought in other remarkable people to work on it, such as Glen Ligon. But he was battling cancer, and died in 2019. The people who worked on this thus had an important mission on many levels.
Seeing Grief and Grievance after a year of Covid-19's painfulness, and two months after one of the worst days of violence, racism and insurrection in American history, was a heavy experience. It seemed to echo and bookend the horrific deaths of African-Americans such as George Floyd, Breonna Taylor, Ahmaud Arbery, and too many others. But this exhibition also comes after the defeat of Donald Trump, the elections of two Democratic senators from Georgia, and other positive political and social changes.
"Mourning, commemoration and loss" and how art sheds light on each of these painful aspects of African-American life: this is an exhibition that should be seen and discussed by anyone who hopes to understand where the US has been and what should be done as we go further. Art borne of pain, individually and collectively, will open your eyes.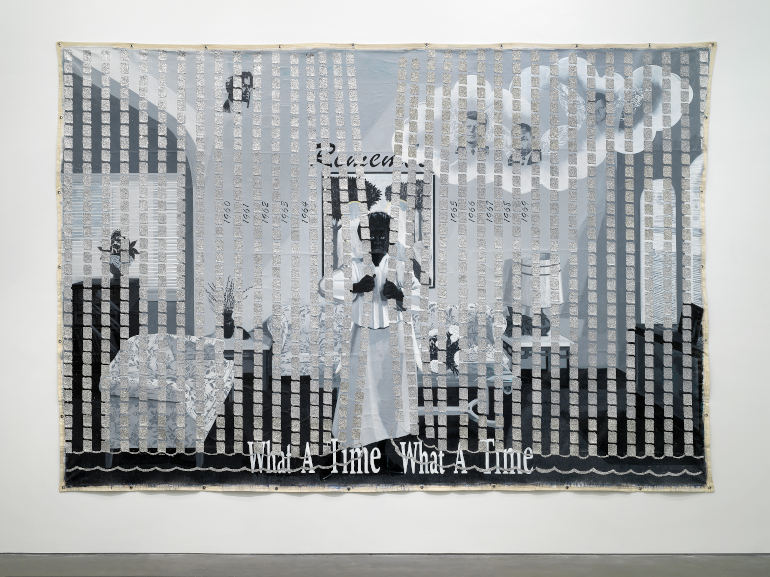 And this ground-breaking exhibition would not have existed had it not been for the efforts of Okwui Enwezor. Nigerian born, he lived for many years in the Bronx and later in Germany. His resume is little short of astonishing: he curated many remarkable shows for museums around the world, such as NYC's International Center of Photography and Guggenheim Museum, London's Tate Modern, and museums in Rotterdam, Brussels, Barcelona, and elsewhere.
He had been the director of Munich's Haus der Kunst, and artistic director of Documenta 11; and artistic director of Biennale exhibitions in Johannesburg, Seville, South Korea, Paris, Japan and Mexico City. He was an adjunct curator at the Art Institute of Chicago. He was a teacher, writer and critic, prolific and highly respected in various related fields. He did all this work in a mere 55 years, because he died of cancer in 2019.
Grief and Grievance was his final show; he was ill while working on it. Personal grief was on his mind as he planned out this exhibition and the themes with which he grappled are enmeshed in the exhibition. And this show, which forces all visitors to reckon with multiple harsh realities, even in a nation that typically (and perhaps vapidly) prides itself on its claims to freedom, equality and multicultural progress, is a confrontation of life and death for African America.
Yet as something of an outsider, and someone whose last years were spent outside the United States, Enwezor's vision should still be heralded greatly for its insight, its variety, and the pure artistic quality of the pieces included and the manner in which they are presented.
Here are the artists included in the show, in reverse alphabetical order. Please look them up online and when you get a chance, view their works in person as well:
Jack Whitten, Carrie Mae Weems, Nari Ward, Kara Walker, Hank Willis Thomas, Henry Taylor, Diamond Stingily, Tyshawn Sorey, Sable Elyse Smith, Lorna Simpson, Cameron Rowland, Howardena Pindell, Julia Phillips, Adam Pendleton, Okwui Okpokwasili, Julie Mehretu, Tiona Nekkia McClodden, Kerry James Marshall, Glenn Ligon, Simone Leigh, Deana Lawson, Kahlil Joseph, Jennie C. Jones,, Rashid Johnson, Daniel LaRue Johnson, Arthur Jafa, Theaster Gates, Ellen Gallagher, Charles Gaines, LaToya Ruby Frazier, Melvin Edwards, Garrett Bradley, Mark Bradford, Dawoud Bey, Kevin Beasley, Jean-Michel Basquiat, Terry Adkins
The New Museum is located at 235 Bowery, NYC, 10002; near Stanton Street. • www.newmuseum.org
https://www.newmuseum.org/exhibitions/view/grief-and-grievance-art-and-mourning-in-america-1
Grief And Grievance Catalogue Grief and Grievance: Art and Mourning in America • Authors: Okwui Enwezor, Naomi Beckwith, Massimiliano Gioni, Glenn Ligon, Mark Nash • Phaidon, 2020
Latest posts by Ellen Levitt
(see all)