Alex Harsley, Photographer in the City, of The City
In 1951 the book "A Walker in the City" was published. It was an ode to New York City, good and bad, and it might seem odd for someone to categorize himself as a "walker in the city." Alex Harsley has been an avid walker and a bicyclist in the city, but he is best known as a photographer in the city, a documentarian of people, places and events in New York City.
Now in his 80s, Harsley has spent many years taking photographs in black and white and color film, making videos of events and scenes in the city, and in more recent years taking digital photographs. He has displayed them in several locales and particularly at the Fourth Street Photo Gallery at 67 East 4th Street, which he runs. He has promoted the work of Black photographers, artists and craftspeople, and others as well. (Disclosure: I exhibited black and white film photos here twice, in 1999 and in 2001.)
He likes to speak to nearly everyone, as long you stop by and say hello. It's rare to find an artist and master craftsman who is so deeply devoted to his work and his innovations, while being a down to earth individual who doesn't give the average person an off-putting attitude. You say "Hi" to Alex, he'll say "Hi" back. 
I stopped by the Fourth Street Photo Gallery recently, and also watched Alex and his daughter Kendra Krueger, an interdisciplinary artist who earned an engineering degree, being interviewed on February 10th, by the Greenwich Village Society for Historic Preservation for a Zoom program called "Creating Collective Power."
June 5–August 22, 2021  — Alex's "The First Light from Darkness" exhibition at the Pioneer Works gallery in Red Hook, Brooklyn.  So Alex doesn't just show his work at Fourth Street, but elsewhere too.
In person, Alex and I talked about several subjects: his efforts to archive his work, putting it into order in various ways (topics, years, etc.), his early days in New York, and so on. We also chatted about how the neighborhood has changed.
ROUTES: How has the East Village been lately? I remember when there were so many people hanging out on the street.
Alex: Well, it's changed a lot, not just because of the weather. It's also because Covid-19 has impacted so many of the businesses in the East Village and some have closed or shortened their hours. It's not a good situation for so many folks.
ROUTES: Talk a bit about when you first came to New York City. 
Alex: I arrived in New York City in 1948, and started my voyage in the urban reality. I lived in the Bronx at first, later in Manhattan, and in 1959 I got this job at the District Attorney's office. Soon after I swapped positions with someone else there, for a job in the photography department. There I learned darkroom mechanics, and on my own I learned "compositional work." 
ROUTES: Talk a little about your learning process.
Alex: Well, I would go back and look at the mistakes I made in photographs. This is good advice for all photographers.
ROUTES: The last time we visited (November 2019), you were showing my daughters photographs you took of many musicians from the past. They still remember the pictures of John Coltrane.
Alex: Glad they do! I have been fortunate to photograph a lot of notable Black people, sometimes before they got their big breaks: Baba Olatunji, John Coltrane, Ray Charles, Miles Davis, Sarah Vaughan, Amiri Baraka, Shirley Chisholm, Muhammed Ali, and many others. But my job is also to photograph unknown people, like my neighbors.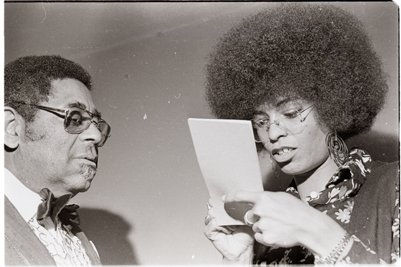 He spoke at length about the Fourth Street Photo Gallery and its place in his life, in the East Village neighborhood, and in the lives of photographers and artists. 
ROUTES: What was the gallery like in the early years?
Alex: I opened it in 1973, after being interested in some other spaces. It was a lot less expensive back then. I even spent a lot of time getting the floor looking the way it looks, like a work of art. I have pictures showing people sitting on that very floor. They liked it.
ROUTES: People often just come right up to you and talk to you. 
Alex: Yep. And people would come to see me with their portfolios, and I would do portfolio reviews. I have conducted workshops and had colleagues conduct workshops at the Gallery as well. 
ROUTES: How did you get so interested in making all these videos? You are posting many on social media.
Alex: I've been making videos for many years. For future history it's very important, and with that overarching concern in mind, I have spent considerable time cataloguing the videos. 
ROUTES: How many actual cameras do you have? You display a few really interesting specimens.
Alex: I don't remember, and most of the ones I used to have I've traded away. People have given me cameras and lenses over the years. Some film and some digital, different film formats and styles. I first worked with large format at the DA's office, I learned it there. I've used various 35 mm cameras and even a mini camera, 16mm.
ROUTES: But hand in hand with all the photographs and videos that he has created and collected, he is now greatly consumed with how they are curated. The gallery "is like a mini-museum. 
Alex: I have a number of archives. I've worked with thousands of artists over the last fifty years. I've created this immense collection of work to be shown.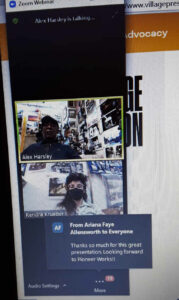 This is where social media comes into play in Alex's days. Spend time looking carefully at Alex's Facebook page (in his name) and his Instagram page (@4thstreetphoto) and you can see how he is creating a wide ranging, comprehensive retrospective of his work, right before our eyes. He also documents people he knows from various walks of life; friends, family, artistic peers, some celebrities, strangers on the street, events, the weather. Some of the pictures and videos are contemporary, others go back several decades. 
These photos run the gamut from stunning, to far from perfect. But they are all part of documenting a life's worth of work and interests, techniques and subjects. He displays the experimentation that is intimately involved in photography. 
ROUTES: I've been looking closely at the photographs and videos you've been posting on Facebook and Instagram. Tell me about some of them.
Alex: I'm posting a lot. I'm going through a lot of my archives. Let's see. I have posted color photo portraits of a Butho master in the 1980s. I posted a black and white shot of a friend biking during the 5 Boro Bike Tour one year.  And color photos of the Wigstock Festival one year. A black and white photo of Muhammed Ali, doing his boxing training.  And a black and white photo of kids fishing in Central Park.
I posted some photos of a man named Jun Maida, holding photos of his father and of himself as a baby, wearing an unusual hat. Maida died in early 2021. I took one photo just a day before he passed on. I posted a video clip of a dancer performing The Cage, and other homemade videos and more videos of different events I went to. I posted these color photos (undated) of the Rod Rodgers Dance Company team and two photos of Frank Gimpaya, a photographer and designer.
And a color photo of Kenkeleba Sculpture Garden in the East Village, not far from the gallery. 
And a color photo of Joe Overstreet, painter and activist who died in 2019. And a black and white photo of a protest: LES Rainbow Coalition Against Gentrification. And a black and white photo of Dizzy Gillespie, Yep, he was also an avid photographer!
Alex posts so many photographs on his social media accounts, and to the outside world — they don't always seem to have a pattern. But the majority are of people in and places and events around NYC, including self portraits from over the years. Photographer Dawoud Bey and a few other friends of his often leave comments, such as naming who is seen in a photo, or information about these people.
To a great extent, his Facebook and Instagram accounts are "museums of the past" mixed together with the contemporary, with more recent pictures and videos. The timeline trajectory of these two accounts goes back, forth, back, forth. It's like listening to Alex talking, his highly detailed thoughts covering decades of people, places, events, and interests. Photography and archiving his photography are conversations, ongoing conversations that are ever illuminating. And they reflect so much about New York City, Alex's home for many years. 
Read our previous story about Alex here:
Latest posts by Ellen Levitt
(see all)