Publicist Barbara Harris – A Class of Her Own
In the pantheon of African-American female publicists, Barbara J. Harris is unquestionably a pioneer. From her days at Atlantic Records in the late 1960s and early 1970s, working with the likes of Aretha Franklin, Roberta Flack, Donny Hathaway and Sister Sledge among many other music legends as well as through her work at ABC Records in the 1970s with Rufus & Chaka Khan, The Four Tops, B.B. King and others, Barbara set the trend for so many of the leading publicists in the music industry today.
In 1974, as a burgeoning young music journalist in London, writing for "Blues & Soul" magazine, I visited New York at the invitation of my former London roommate, Gary. It turned out to be a working vacation of sorts and I realized that there were so many great artists I could interview while on holiday and Barbara Harris at Atlantic Records was literally the first publicist I met… .
Jump right in: Harlem years – Stepping into the Music Industry – Touring with R&B Stars – From Music to Fashion Industry
I remember vividly going up to her office at Atlantic Records in Rockefeller Center with a little trepidation. I thought, 'Wow, I'm going to Atlantic Records, the home of all these incredible legendary artists whose music I'd been listening to for all these years.' Barbara was very gracious if a little intimidating, if I tell the truth about it. She extended a wonderful invitation to me to go to see my soul music heroine of the day, Aretha Franklin at Radio City Music Hall and the vocal group Blue Magic was opening for her. Barbara also extended an invitation to me to go to a showcase that Atlantic was hosting for a newly signed group called Revelation. It's turned out that guys like Phillip Ballou and Arthur Freeman from the group ended up being some of my longtime friends…
Barbara was one of a very very small number of African-American publicists at major corporations in 1970, along with people like the late Bob Jones at Motown. She spent many years promoting the work of African-American artists in the United States, and obviously beyond. After I moved to New York in 1975 to write for "Blues & Soul" as the US correspondent and then editor, we did a lot of great work together and over the many years since, we have become friends. I just think she's one of the finest people I've met. She's gracious, she's elegant, she's got a great sense of humor and she has great stories to tell about her journey in the music industry… .
Barbara: Thank you so much for that introduction, what a pleasure, David, to be chatting with you over there in London.
DAVID: Okay, now let's talk about all the great things you've done! So, the first thing we want to do is give people a little bit of an idea of how you first became involved in the music industry and what you were doing before that. Tell us where you're from and just a little pre-music industry history.
It all started in Harlem
Barbara: Okay, I was born in Hartford, Connecticut. Prior to coming to New York, I was studying dance with Frank Hatchett in Connecticut, and then I decided I didn't have what it took, the guts to be a dancer out there. So I decided to move to New York and look for other things, look in other pastures. When I first came to New York, I worked for an attorney in Harlem, Fred Samuels who is now deceased. He was a big player in Harlem and he introduced me all around Harlem. I lived in Harlem. I used to go to Frank's Restaurant, which was a very fabulous restaurant bar and that's where all the major folks hung out. As a result, I met some very very important people. [Music industry executive] Sylvia Rhone's father is one, Bob Rhone, who was a very important attorney in New York, and he was a lovely man. He befriended me and was very helpful in my life. Also, Jocks Restaurant was fantastic, and the Red Rooster, we have a Red Rooster now that Marcus Samuels has opened up. It's lovely, but it's certainly nothing like the one back in the day.
Everything changes, and it's a different decade, but the young people are enjoying it and that's what's important. Harlem is back I'm happy to say. Also, while working for Fred, at that time, I never left Harlem. Harlem just was so fabulous and that was the early 1960s. For two years, I don't think I went downtown because there was no need to go downtown. Everything was happening in Harlem, darling! I was in that Apollo several times a week. Everything was there, David, and it was just divine. It was safe, and happy, and we used to go out at 12 o'clock at night and meet friends and we wouldn't think about it because no one would dare bother us. It was safe and wonderful.
After two years working for him, Fred decided to fire me. He fired me by express mail. He just wanted more than I was willing to give him. I was working for him, and I was not interested in him in any other way. So, he got rid of me. But it was good, it forced me to go downtown which was the best thing that could have ever happened. I think the first day that I went downtown to look for a job, I got two jobs. One at The Loveable Brassiere company, and another one with another company.
I'm very happy that I chose the one with Loveable Brassiere company. That is where I really started learning PR. I worked for the PR director there, and I was the fitting model, a perfect 34B! Back in the day, David! Anyway, that was a great time. Her name was Barbara McGinnis and she was a wonderful woman. She's now deceased, but we became great friends in life and she just was terrific. As I said, working for her, she exposed me to everything. It was wonderful.
Stepping into the Music Industry – Queen Booking
I worked there I guess, four or five years, and then I met Major Robinson. Major Robinson was a wonderful man, who was a journalist. He worked for Johnson Publications. He was the man for Ebony [Magazine]. He had that gossip column and he kept everything up to date as to what was going on with everything in Harlem, around the country, all the famous African-American celebrities etc. We became friends. One day I saw him and he told me Ruth Bowen was looking for someone to work with her. Would I be interested? I said, 'oh my god, yes.' I jumped at the chance. I met Ruth and she hired me to work at Queen Booking, and that was just the beginning… that was my introduction to the music industry. That was just fantastic. That was great. I mean, Sammy Davis, I met. This was 1967.
That's when I first met Aretha. She was with [then-husband and manager] Ted White. Ted brought her up to Queen Booking and Ruth signed her. I met George Clinton at that time, he was a 'straight' man then, dressed in a suit and tie. Linda Jones, R&B singer, she died early, she was with Queen Booking,  Johnny Hartman too,  just everybody. Everybody who was anybody, Ruth was booking. It just was a great time up there with LaRue Manns, Ruth's sort of sidekick. She was a wonderful woman. She sort of really kept the office running smoothly.
So, I was working up there a couple of years after Ruth signed Aretha. One day, Aretha was there with Ted and they were going to be meeting with some people coming up from Atlantic Records. One of those persons was Henry Allen. I met Henry and I said to him, 'if there's ever anything available at Atlantic, I'd be interested.' Well, I got a call a couple of months later saying that "there's a spot". Off I trotted to Atlantic Records. Excited, scared to death, but just wow!
DAVID: Since you obviously met Aretha at a very crucial point in her career, we're talking about 1967.  What was your first impression of her when you met her?
Barbara: She was very shy. Very very shy. Aretha was like maybe a size eight and she was just lovely, adorable looking, but very shy. She didn't talk much, but when she opened that mouth to sing, 'that was all she wrote'!
Aretha Franklin later sums up her experience: "Barbara, you have always been a class act."
DAVID: So, here we are: you've moved now from Queen Booking to Atlantic Records. At that time, where were Atlantic's offices? Were they on Broadway?
Barbara: Broadway, yeah. 1841. Fabulous. Up above a drug store. And there were two floors at that time, I think. We were on the second floor, the accounting and all that was on the seventh floor, if I'm not mistaken.
DAVID: Now, what did you get hired as?
Barbara: As a secretary working for about four of the promotion men. George Furness, Juggy Gales, Richard Mack, and Rick Willard. So, I would just take care of their things and at that time, [Atlantic President] Jerry Greenberg and I became very close. He was a real mentor to me and he saw fit to move me on after a few months.
DAVID: Move you on to …?
There was nothing much being done for the African-American artists …
Barbara: Into the publicity department. Actually, they had one, but there was nothing much being done for the African-American artists. You know what I mean? They needed special attention because so many of them did not have managers per se. So, at that point, I was working sort of as a publicist/manager too. Just doing all I could do to promote them and move them forward. That was just a joy.
DAVID: Do you remember who was the first artist you were assigned to really work on? Obviously, you had a whole roster, but do you remember the first campaign you worked on?
Barbara: Donny Hathaway.
DAVID: Tell us a little bit how that was, how that came about. What was it like working with him?
Barbara: When Donny was signed, everybody was excited. That voice, my goodness. I hadn't heard a voice like that ever. So many other people had not. It was so pure and wonderful. They got him into the studio very quickly and started producing those records and sent them out to radio stations. The records took right off, and at that time, they knew that they had to put him on the road. He had to do a tour to support the records. As a matter of fact, I'm going to back track for a second. Also, when I was doing promotion, there were a couple of times that they'd put me on a plane just for the day. I'd go to two or three different cities to meet promotion men. Got off the plane, gave them the records, then got back on another plane and off to another city.
I know that happened with Donny, and I think that happened with another artist too, Toni Wine. That was really something. Pump those records out! But, in getting back to Donny, we put a tour together. I think the first tour was like a five-city tour or something like that with Mario Medius — Mario used to do Rock promotions. He was on the road with all the rock stars and stuff. I think Jerry Wexler decided that it would be a good idea for Mario and I to go on the road together with Donny. So, Mario went on that first tour. Mario wasn't with us for the whole tour. At other times, it was Ric Powell, Phil Upchurch, Willie Weeks and Earl DeRouen, the conga player. I have to say, they were really wonderful guys to travel with. They were very respectful, and I just never had a moment's problem being on the road as a single young woman with all these men. They looked after me, they took care of me as I was taking care of them. It was a wonderful time.
DAVID: Give us some idea what kind of person Donny Hathaway was. He died so early.
Barbara: Donny was a wonderful soft spoken person, kind of quiet, kind of staying to himself so to speak.
DAVID: So introspective?
Barbara: Introspective, yes. Very much so. But, again, like Aretha. When he opened that mouth to sing, Donny brought people to tears including me when he would sing. When we were doing that tour, I remember we were in Detroit and two of the Four Tops members were at a party and they just shook their heads. It was Levi Stubbs, and I think it was Abdul "Duke" Fakir. They were like, 'Oh my God, that voice!' Donny could move you to tears and the song "A Sack Full of Dreams", that's one of my favorites really. He's done so many wonderful things, but Louis Savary and Gary McFarland wrote that song, and that song just would move me and bring tears to my eyes every time he would sing it.
Touring with R&B Stars
DAVID: So, here we are, you're on the road with Donny Hathaway, with musicians touring, promoting.
Barbara: It was great, David, as I think back, it was 'hot pants' time! So in several of those pictures with Donny and different people, I'm in my hot pants and my boots and the big Afro! It was 'Afro days.' It was great.
DAVID: Obviously you had to take him to do interviews, and so on. How was he in that kind of setting? Was he comfortable, uncomfortable, since he was so introspective.
Barbara: He was very comfortable. Donny was very bright and very intelligent.
DAVID: So, it was okay?
Barbara: Yeah, he was fine. I saw no sign of any real problems at that time, but I guess they developed during the years. When he was in his music, he was in heaven and also, there's one more thing. We were in St. Louis, playing at the Playboy Club, and that's where he was from. He took me to his home where I met his family, including his mother and his siblings. That was very sweet.
DAVID: Now, who are some of the other people that you went out on the road with at that time?
Barbara: Esther Philips.
DAVID: My good old buddy. Esther Philips. Now, if I remember, you told me a great story. I don't know if you want to include it here, but I'm sure it would be enlightening for people to hear about Esther and her antics. So, tell us about Esther on the road.
Barbara: Esther was a trip. She was a trip! I had my mink coat on, and I'll never forget, I think we were in Chicago. She wanted to borrow my mink coat, and I said 'I'm sorry. I can't loan it [to you].' Well, she became upset, and she tried to turn the band and everybody else against me. Then she came back and she told Jerry Wexler some stories about me, which were not true. That was so mean! I was so upset, but then we got past that. I was in California, maybe a few years before Esther died, and I ran into her. She was very lovely and very warm. [But] she was a piece of work, baby!
DAVID: She really was!
Barbara: [And] she was a fabulous artist.
DAVID: She was. Anyone else that you were on the road with at that time or were those the primary ones you remember?
Barbara: Let's see, Donny, Esther, oh, I went on a big tour to Europe, London, Germany, I think we were in France, with Jimmy Castor and my boy, Ben E. King, Sister Sledge, The Spinners, that was great. That was a great tour. It was really phenomenal. It was very interesting to say the least.
DAVID: Of course, now we're looking at the early 1970s, that time period. There were so many incredible artists on Atlantic at the time. Throughout the late 1960s, early 1970s, we're talking about people like King Curtis, Wilson Pickett.
Barbara: Blue Magic. I spent a lot of time with them. They were darling boys, really just so talented. They had hit after hit after hit. They were incredible. It was funny, their management used to be shoe salesmen. They either were shoe salesmen or owned a shoe store in Philadelphia. They were nice guys. They were very nice. Blue Magic, they were really something. They were really incredible.
DAVID: Before we go on, just give us some idea of what it was like for you, number one, working at Atlantic with all these great artists. But also, the kind of work you had to do to get publicity for some of these artists, not so much in the black press, but beyond that. Give us some flavor of the challenges you faced as a publicist?
Barbara: At one time, there was one PR department, then it was divided sort of into R&B, jazz, and pop/rock. From the pop/rock side, we had people and contacts at the trade magazines and all the big magazines that we could tap into and the music was changing. Of course those magazines that really did mostly pop and rock, they wanted fantastic people in their publications. So, it wasn't tough. It wasn't tough because [of] the artists. Listen, all they had to do was listen to the music and they knew that they were worthy. So, it really was "Rolling Stone" and all those fabulous big magazines, it wasn't a terrible hard challenge to cross those people over, these were crossover artists. That's what they used to call them, crossover artists at that time. So, it wasn't tough. It wasn't hard.
DAVID: If there were any challenges, what would you say they were?
Barbara: Oh dear, back in the day, we had racism. It was there in the 1970s, but I have to tell you, I just didn't feel a lot of it. In the music industry, it was different than other industries. It wasn't like you were in the corporate, real kind of corporate situation. So, people were more relaxed and more open in the music industry. They really were. I think everybody was about the same thing: loving the music. Look at what happened at Woodstock. It was about loving the artists and loving the music and just enjoying all that. I can't say I ran into any real heavy duty problems, I really can't.
DAVID: We talked about some of the really incredible artists that you were working with, and, we would be remiss if we didn't mention one of them. She was someone that you probably worked with quite extensively at the very beginning of her career, and that's Roberta Flack.
Barbara: "First Time Ever I Saw Your Face." She was another one, when you first heard that music you were like, 'oh my God!' Your mouth just went open, it flew open. It was so wonderful. Joel Dorn was her producer. Joel was my real good friend at Atlantic. He and Roberta had a very special relationship with the music. Roberta was great. I went on the road with her, I think, it was just a short trip, a couple of cities. But what sticks in my mind is when Bobby Kennedy was running for office. He was having a reception at his home in Washington and Roberta was to be the entertainer. She invited me to accompany her. That was really like a milestone in my life. That was wonderful.
DAVID: And how was she to work with? Was she different from any of the other ones that you worked with?
Barbara: Roberta is a very intelligent woman. She knows what she wants, as [with] all celebrities or creative people, they have their moments. But I can't say that she was really a very difficult person. She was not. She knew how she wanted it, and if she didn't get it the way she wanted it, then you certainly were made aware of that. She was a lovely person. I remember once she had been away and I was living in Harlem and my apartment had been robbed and jewelry of my mother's was taken. I was just so broken up about that. She happened to call me when she came back and it had just happened like the day before or something. She could tell on the phone that I was very sad. I told her what happened. She said, 'Oh no. I'll be right there.' She jumped in a cab and came up. So that's how caring she was about people that she was friends with.
DAVID: Now, before we move on and continue with your journey at Atlantic, and then moving on from there, one of the things that I recall from my time period of living in New York is that you were responsible for hosting fabulous parties.
Barbara: The parties were fantastic. The parties were really great.
DAVID: Was that something that came naturally to you? Was that just something you just knew how to do or something you acquired a skill at?
Barbara: Something kind of that came naturally. I used to host parties in my apartments. I enjoy entertaining. I enjoy people. I enjoy bringing people together. So, putting together a fabulous party, if I had the budget, was not a big deal. And Atlantic gave me the budget. Speaking of great parties, I'll never forget this one. When Atlantic signed The Spinners that was a big hoorah. That was really sensational, right?
DAVID: 1972. Yes.
Barbara: So, [Atlantic co-founder] Ahmet [Ertegun] said, 'let's put a party together.' So, we put this party together at the Park Lane Hotel. It was fantastic. The parties were usually 6pm-8pm, 6-8:30pm. So, we were just getting ready to close it down and Ahmet arrives. He said, 'No, open up the bar! I'm here!' I think we partied there for another hour or so, then he took us all to the Hippopotamus Club. That was a night. I'll never forget that. I had pink and black on. I partied so much, when I got home I then remembered that I had left my black hat somewhere. I didn't have my hat. My black straw hat was gone!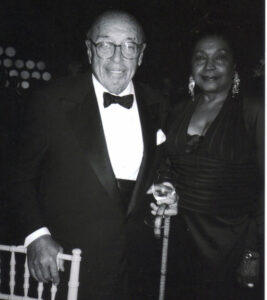 DAVID: Those were the days. Yes!
Barbara: That was some party, but then also, another party that comes to mind that was fantastic. When Wilson Pickett came out with this wonderful album. I think King Curtis produced it. We gave a big party to celebrate that. I think it was maybe at one of the Hilton Hotels. That was shortly before King Curtis died. That was a party! That was a party that everyone wanted to be at. People from other labels, whatever, when they knew there was an Atlantic party, they wanted to be there!
DAVID: That's why I knew you had that reputation you see!
Barbara: I loved putting the parties together, Perle Mesta-style. It was fun bringing people together, seeing them, watching them having a wonderful time.
DAVID: Well, let's continue on. So, now we've covered some of the obviously great artists that you worked with. We've talked about Aretha, we've talked about Donny Hathaway, Esther Philips, Wilson Pickett, you just mentioned King Curtis of course, and The Spinners, Roberta, absolutely and Blue Magic. So, you've had a really great roster of people to work with. But there were not just those named alone, of course, there are many many others.
Barbara: Ben E. King. Let's not forget our Ben E. King. God bless him. He's a wonderful man. I'll never forget. Benny was at Radio City, and Luther Vandross opened for him. Now, that was a long time ago. Luther was on Atlantic for a hot minute. That was the time… .
DAVID: My memories of course go back to his early hits. The first time I actually encountered him was at an interview that you set up for us at the time of the release of his new album "Supernatural". It was produced by Tony Sylvester and Bert de Coteaux. I met them at Media Sound Studios on 57th Street, which was at the time around the corner from where I live on 56th Street. The occasion when I met them was not actually for Ben E. King. It was just prior to them working with him. They were producing Martha Reeves for Arista. Shortly thereafter, they worked with Ben E. King on a fantastic project out of which came the song "Supernatural Thing".
Before we move on, Barbara, I want to say of course there were many others who unfortunately didn't achieve the same kind of status that those you've worked with in that same time period. So, I'm just going to throw out some names and if any of these have a particular memory with you, for you, please feel free to share. There's  [the late] Jackie Moore.
Barbara: Oh, Jackie! I went on the road with Jackie and [producer] Dave Crawford, yes. It's been so long ago. Now you're refreshing my memory. You're waking up all the brain cells! You've got them moving now! Jackie Moore was terrific. Oh my God. I love Jackie. She was a trip. She was fun. She was a lot of fun. I went to Jacksonville and we set up a big party for her for her hit. What was that?
DAVID: "Precious Precious" and then there's Brook Benton.
Barbara: Oh, Brook. Wow, Brook was something. Oh my goodness, another voice that was just incredible.
DAVID: And then, Dee Dee Warwick?
Barbara: I knew Dee Dee from Queen Booking. She was great. Dee Dee had great chops.
DAVID: Absolutely, and then of course I would be remiss if I didn't mention the amazing Sweet Inspirations.
Barbara: Oh my God. They were great. They were great.
DAVID: Did you get to do any work with them, directly working with them at all?
Barbara: Not really.
DAVID: So there were all those people and I've just mentioned a handful. Of course, there's others that come a little later, and in fact, I have a wonderful photograph of you and I with this next gentleman that I'm about to name sitting at Atlantic Records at some kind of function. I don't know where we were or what we were doing there, but what's noticeable about it is that the three of us have Afros. The third person in the photograph is Sam Dees. Sam Dees the singer/songwriter.
Barbara: Sam Dees! Oh my God! Sam Dees! He was something! He was very talented! He was very talented, right?
DAVID: Absolutely. He's a name that resonates very much with soul music fans, particularly those in the UK. He's somewhat of a cult hero. People really love the music he made at Atlantic. He didn't make many albums, I think he made only one or two in fact. Alright, well, we're in the mid 1970s. Of course it was when I first met you and one of the groups that you were definitely working with was Sister Sledge.
Barbara: Sisters Sledge. They were just adorable. They were so adorable, and their mom, she was a wonderful woman. Their mom and their aunt just traveled with them all the time and took care of them and I'll never forget very early on in their career, [Atlantic Vice-President] Annie Ivil and I had taken them to some studio over on 57th Street near 8th Avenue.
DAVID: Probably Media Sound, the one I mentioned before.
Barbara: Media Sound, I guess it was. They were doing some recording there, and then we left there. There's a photograph of us walking down 57th Street. It's just adorable. They were sweet girls to work with. They were really sweet and very talented. Speaking of them, I went to see Nile Rogers last week at the outdoor series that happens at Lincoln Center… and he was incredible. He was incredible. You say Sister Sledge, you certainly think of him, right?
DAVID: So, now we're moving on. At what point did you leave Atlantic? I know you went on to another label. So, let's talk a little bit about that.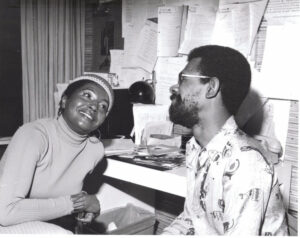 Barbara: In 1978, I left Atlantic and went to ABC Records with Mark Myerson who was also at Atlantic. He worked for Jerry Wexler. He was like Jerry's assistant. He was offered the opportunity to run the New York office of ABC Records and he invited me to come with him. So, I accepted the offer. It was terrific. We had a lovely little office on 58th Street, right off 6th Avenue and two or three, or about four other people from Atlantic went with us.
DAVID: Now, was it difficult for you to leave Atlantic?
Barbara: At that time, no, because you know how things sometimes get old. Something had happened there that wasn't a good idea. I was dating someone and Jerry Greenberg wanted to hire him.  I said him, 'You know what? I don't know if that's a good idea.' But, he hired him anyway. That guy kind of screwed up. So, it tarnished me a bit. I felt that he came in and he tarnished me. So, it was time to move on. We decided to move on. I had a great time at ABC working with The Four Tops and Chaka Khan, whoa. That was something. Chaka was a handful at that time. Baby, she was a handful! So, whenever I was going crazy, I would call Belinda, 'Help! Help, Belinda!'
DAVID: You know I think Chaka would be the first to admit that that was a difficult time period for her. Yes. I'm sure it wasn't easy for those working with her. Do you have one particular memory that you can share with us about that?
Barbara:  They [the group Rufus] were in town, and Chaka was staying at the Waldorf. I had set up an interview. I think it was for Essence or Jet, I forget, but I had the writer with me. We, of course, arrived on time at her suite. We must have waited for her in that living room for two hours. It was really not good. It wasn't good.
DAVID: Okay, now you had a lot of great artists, as you mentioned, at ABC. You had The Four Tops, you had B.B. King, Bobby Bland. Do you have any particular fond memories of working with any of them?
Barbara: Oh yes. Yes, yes. B.B. was a real gentleman and once I traveled up to Massachusetts with him. He was in an organization, it was his manager's. They used to go to prisons around the country, the attorney would give free legal advice and B.B. would perform. He was a very famous attorney, his name I can't think of right now. They invited me to go with them to Falmouth maximum security prison in Boston, Massachusetts. It was so funny for me because I had never been in a prison. So, we flew to Boston's Logan Airport, then took a helicopter over to the prison. Getting into the prison proper, you had to pass through an outer door, then through a second door before you actually came to the prison area. Well, my dear, I had on a wig, I had on boots. I had to take off my boots! I said, 'Oh my god, this is horrible.' So, that's what happens when you go into a maximum prison. But it was really very very rewarding and it was very sad for me to see so many young people, African-American and Hispanic men in this prison. They were young boys, looked like seventeen, eighteen. That was really very very sad. Anyway, then I hosted a party in New York for Bobby and B.B. together, which was great. Were you there?
DAVID: I was. In fact, I can even tell you, I think the year. I think it was 1978. I'm pretty much sure it was. It was around that time period for sure and I remember seeing them, actually that was a little bit before. I remember seeing Bobby Bland at a place called Barney Google's?
Barbara: Oh yeah, Barney Google's.
DAVID: I seem to recall that I was at that party in 1978 and am I correct that they performed together? They did some shows together?
Barbara: Yes they did. Yes they were fabulous blues singers. They could rock it. Bobby, I would love to see Bobby perform. He would just reach back way back in that voice. I loved that music. It was incredible.
DAVID: Alright, so we also referenced The Four Tops. So, do you have any particular thoughts on working with The Four Tops? How was that for you?
Barbara: They were lovely and they were fun guys, really fun guys. Gentlemen, fun guys, and great talent. Obie was the devil [in the group]! He was such a little devil. Obie was something. You know Faye Treadwell as well? Remember the great Faye Treadwell? She was my buddy. She's now deceased for a couple years ago. Faye knew all those people. I met Faye at Queen Booking. [Her husband] George had just died, and Faye took over managing The Drifters. That's when I met her and we stayed buddies throughout all those years. Faye, as I said, was friends with all those guys. I was in London with Faye once, and we went to see The Drifters. I couldn't believe it! It was like The Beatles were on the stage. Those women were going crazy. I mean, it was just unbelievable! That was a great time. The Four Tops were really fabulous. They just had a hit "Ain't No Woman Like the One That I Got". They just had hit after hit after hit. That Levi had a voice that was unbelievable, right?
DAVID: So, let's go on with your journey. How long did you stay at ABC Records?
Barbara: Two years, 1978 to 1980, then I sort of left the business. Then I was doing management, haha! I managed Oscar Brown, Jr. for a while. He was lovely. I knew Oscar from Atlantic Records. Nice, nice man. Then I managed Abbey Lincoln.
David: Wow, so you picked some seriously legendary people in the realm of music… .
Barbara: I traveled to the islands and to Europe with Abbey. She was hard. She was tough. I have to say, she was real tough. Yep. Actually, when we came back from the tour, I quit.
DAVID: Okay, why did you choose to manage her? Given I already know she had a reputation… .
Barbara: Well, you know, I had met her through Oscar. And I was living over on the east side, and she would come over and we connected and I just had a feeling in my heart for Abbey. She was just coming back into the business. She and [her ex-husband] Max Roach had had that terrible time and whatever. So, I said, well 'Gee, I can help her.' I was really sincere with it and at first it did work well. It worked very well. Then, it just got to be, yeah… then it didn't work well. I said 'Okay I can't. I'm not cut out for this.' Then I went into the fashion industry after that.
From Music to Fashion Industry
DAVID: Now, you spent all those years from the late 1960s all the way through to the late 1970s, a good ten years, in the music industry… . Did you actually miss it once you left?
Barbara: Not really because things had changed. Things were changing and what the beauty of that was, I still was in touch with a lot of the great people that I loved and admired. [Just] because I wasn't physically there, we were still in touch.
DAVID: So you maintained the contacts with many of them.
Barbara: I maintained contacts and friendships. In 2011, last September, I got together with Marcia Green, Simo Doe and Connie Thomas Staten (the widow of Bill Staten who did promotion at Atlantic) and we put together an Atlantic reunion, which was fantastic. It was great. We had it at the Sugar Bar in Manhattan. It was great. The people came and they were just so happy to be there. I saw people, David, I hadn't seen in thirty years or more. It was a great get together.
DAVID: Did any of the artists come to that?
Barbara: Let me see, Roberta came. The Rascals came. There might have been a couple of others, but most of them, they were working out of town. Ben [E. King] would [have] come, but it was on the east coast and we weren't expecting people to travel in from other places. Benny was working. I think Benny was over in London. But, it was very very good. It was just a great coming together because it was about 'let's do something while people are still here.' In the last few years, we've lost a lot of artists, a lot of folk who worked in the industry, John Brown, Bill Staten, these were people who were close to me that I knew well the whole time I was in the industry. It was time to do something fun.
DAVID: So, you didn't have any regrets. Once you left the music industry, you were good and moved on… ?
Barbara: I was good. I was really good. I loved it, and I tell people one of the best times of my life was being at Atlantic. It was phenomenal, but I was ready to move on to something different. I really was.
DAVID: So, then you went into the fashion industry from there? And how long did you stay with that?
Barbara: I was in the fashion industry for like ten years. I did sales, wholesale. I would travel around the country and stuff. I've always been a people person. So, every job that I've had, or every career I've had, is about people. The record industry, in the fashion industry I would sell to stores. They'd come to our showroom. Then I'd travel around the country to do the industrial shows and then go to their individual stores and do shows, etc. I enjoyed that. And, of course, I love clothes. So, I was always very well dressed.
DAVID: This is true!
Barbara: After I left the fashion industry, I was working in antiques and fine arts. I have a friend, June Kelly, she has a gallery, and she's had that gallery for like twenty-five years. Actually, through the years, I would work with her. I was around her a lot. She really taught me, opened my eyes, to the art industry, the fine arts. So, I would work at her gallery sometimes, help her out. I did that. Then, 1997, I went into real estate. I've been doing real estate ever since.
DAVID: Wow. You've had quite an amazing [life] when I think about all the different industries you've worked in, that's some really incredible resume.
Barbara: Yes, but when you look at it, again, it's all people-driven…and moving around and excitement. I don't like sitting still too long, I like to move around. I like to interact.
DAVID: Now, since music played such an important part in your life, obviously professionally, do you have favorite music that you listen to a lot now?
Barbara: Well, it's funny. I keep my radio station tuned to WBGO. That's a jazz station. I've always loved jazz. It basically stays on that station. When I get up in the morning, I put that on as I come into the living room, and even when I sit at my computer, I put on WBGO. With  jazz music, in the background, you hear a variety of instrumentals, singers, etc. It's fabulous. I used to listen a lot to the Hal Jackson show because he played great stuff. When I was working in the industry, of course, I'd take a lot of the artists up to be interviewed by him. Basically now, I just kind of listen to that. A friend of mine, Ron Cole, do you remember Ronald Cole?
David: The name rings a bell.
Barbara: He worked during the disco era. Ron is great. Ron puts together these marvelous tapes and mixes the music up beautifully with all kinds of music. I have a lot of those. So, sometimes I put those on.
DAVID: You don't get up and boogie do you?
Barbara: Sometimes! When I'm all by myself, yes indeed. I get out here and boogie a bit, and I watch "Dancing With The Stars". I've  said to myself, 'Boy, I wish there were still some places to dance.' There used to be so many great places in New York where you could go and boogie. But, there aren't at this time. David Jackson, God bless his soul, he and I used to always talk about putting our 'A' list friends together and having a tea dance. You remember David, right?
DAVID: Yes, I do.
Barbara: He's a great writer. Fabulous writer. Good guy. The music business was fantastic, David. I met so many wonderful people. As I said, I'm still in touch with a lot of them. I went on a big tour with Margie [singer] Margie Joseph. My goodness, how could I not remember Margie? Margie was fabulous.
DAVID: She was.
Barbara: She's a wonderful woman.
DAVID: A great human being.
DAVID: Well, I want to thank you for taking time today and really sharing with us memories of some of the great people you worked with, but also for sharing your memories of your own journey. What a wonderful journey in the music industry. To be there at the forefront at such a crucial time in the world of soul music. There is really probably no one else who can tell us what it was like to be on the road with Donny Hathaway for example. Really. It's precious, and I just really appreciate that. I also appreciate all the assistance you gave this young Brit back in the day, arriving from London, not knowing anybody, not really, trying to establish myself and Blues and Soul. Trying to get some buzz going for us and for having the opportunity to interview so many of the artists at the very early stages of their careers too.
Barbara: It was my pleasure, David. You were a bright-eyed soul. You were so energetic and interested and just wonderful. You had a vibe that was really great.
DAVID: I do have one memory of our first meeting. It is so vivid, I must share it with you. So, when I did meet you, I even can picture the office you were in. That's how vivid this is. I can actually see you sitting behind the desk in the office that you had at Atlantic Records in Rockefeller Center. I can see it right now. One of the things you said to me was 'Oh, by the way,  Would you like to go see Aretha and Blue Magic at Radio City Music Hall?' And of course, I was like, 'Uh yes! Absolutely!' You said, by the way, 'Aretha's in the studio'. In fact, you said, and this is how vivid this is, you said, 'In fact, she's just doing a track of "Lullaby at Broadway"' and you said to me, 'If I can arrange it, would you like to go to the studio?' I almost fell on the floor. It didn't turn out. In fact, interestingly enough I've been into the Atlantic vaults many times as an historian, a reissue producer, they never finished the track. So, there is a track for "Lullaby at Broadway" but there's no Aretha vocal on it. So, it never actually got finished and I'm sure that's the reason why the invitation, although you were kind enough to say 'if I can work it out for you' [It never worked out.]. Obviously there was no point because they never finished it off. But the idea, just the mere idea of being in the studio… .
Barbara: Being there. You know, David, you had the knack of being at the right place at the right time too. You just have that knack.
DAVID: Probably true. Again, I want to thank you. It's been really a delight talking to you.
Barbara: Thank you so much.
(This interview was originally conducted in 2012 as part of an online series entitled "Giving Respect" which is no longer available).
2021 Post Script:
SoulMusic.com founder David Nathan continues to be in touch with Barbara, some 47 years after his first meeting with her at Atlantic Records in 1974.  He attended the 2018 'Celebration Of Life' services for Aretha Franklin in Detroit with Barbara, the former president of Atlantic Records, Jerry Greenberg, award-winning artist Dee Dee Bridgewater and famed drummer Bernard 'Pretty' Purdie (who played on so many of Aretha's recordings).
In connection with this 2021 reprint of his 2012 interview with her, David asked Barbara about her current activities and a few reflections on her years in the music industry…
DAVID: To bring us up to date, what have you been up to in the last few years?
Barbara: I've been working in real estate for 24 years now!
DAVID: Amazing… and the obvious question, do you miss being in the music business?
DAVID: Given how you and I connected back in 1974 and my memory of you inviting me to see Aretha at Radio City Music Hall on my first visit to America, it seems appropriate to ask you to share about seeing Aretha in 2017, a year before she passed. . ..
Barbara: Yes. I attended her last public concert at an outdoor venue outside Philadelphia. It was a summer night in 2017 and the place was filled to capacity. I had never heard Aretha play the piano and sing so amazingly well as she did that night. It was a magnificent concert. I was fortunate enough to greet her backstage and she was so open, so warm, so friendly. Her vibes were so good that night. I spent about ten, fifteen minutes with her and as I was leaving the room, she called out my name and I turned around and I'll never forget it, she said, 'Barbara, you have always been a class act.' That memory will stay with me always… .
If you'd like to reach out to Barbara Harris: bharris@bondnewyork.com
Latest posts by David Nathan
(see all)