In the somewhat bewildering, but highly imaginative language of New York City's black teenagers, the highest compliment one can give something or someone is to call it, him, or her "the joint." Conversely, the biggest putdown is to refer to the object of their scorn as "wack." With these descriptions as a guide, one can only say that The Dance Theatre of Harlem (DTH), which is world famous for its artistry and skill in the field of ballet, has definitely proven itself to be "the joint." And those ballet traditionalists and critics who fail to recognize this can properly be called "wack."
The eight year old company, under the dedicated leadership of Arthur Mitchell, and Co-Director Karel Shook, has earned accolades by providing ballet lovers throughout the world with many evenings of brilliant and scintillating dance. And while doing so they have permanently laid to rest that old myth, which was not often subtly perpetuate by many ballet conservatives, that black dancers with their ample round behinds and curvy bodies aren't really physically suited to dance true classical ballet. By the conservatives own admission, the classicism of ballet is found in the perfection of the technique (way of performing). The complete domination and control of the body is absolutely essential to attain this perfection. Dance Theatre of Harlem has done just that both individually through its dancers and collectively as a company.
No one who has ever seen DTH dancing everything from Balanchine's austere "Concerto Barocco" or Louis Johnson's soulful "Forces of Rhythm" to Geoffrey Holder's colorful "Dougla" can continue to support such myths with a straight face.
And to do so becomes almost as ridiculous as the exclusion of women from ballet before the 1680s. What DTH has done is to combine technical mastery, developed by many hours of continuous rehearsing, with that elusive element called soul. The result is a dance style that has done more to broaden ballets appeal to black people than all those school lectures on "culture" ever did.
As the curtain goes up and the DTH dancers appear on stage, the first thing that impresses one is the sheer beauty of the company. In the 1950s, Ruth Brown used to sing a song about "fine brown frames." She must have been singing about that decade's version of the DTH dancers.
Of course, being Black Americans, some are darker then brown while others are lighter, but that's beside the point. DTH dancers definitely have fine frames. Once they start dancing, one instantly sees that their beauty is much more than skin deep. As they Grand Jeté (leap), Pirouette (twirl), Glissade (glide), and do all the intricate acrobatic and precise movements that make up classical ballet, it becomes obvious that these are superb technicians who have dedicated hours of practice and determination into their art. Long before the end of their performance, especially before a predominately black audience who has traditionally, at best ignored or at worst ridiculed ballet and all it stands for, one could almost see and feel years of anti-ballet cliches fading from the audience's mind. In their place comes a new appreciation of ballet as another valid dance expression to be used by Black people; not superior expression, as it is often so arrogantly heralded by traditionalists, but another valid one. Of course, another reason for DTH's appeal to its new audience is that a typical evening's program includes not only the cool, highly stylized works of Balanchine and other members of the ballet establishment, but also the warm, more soulful and energetic ballets of Louis Johnson, Geoffrey Holder and Arthur Mitchell himself.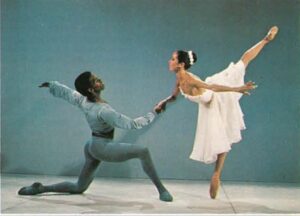 You may well ask, from where do these dancers come? Does Mitchell pluck them out of some equivalent of a dance haven in the sky? The answer is that they do come from a dance haven, but it's not in the sky. Rather it's located on 152 St. in Harlem and it's the place where the company studies daily under dance masters, where they develop the technique and style that has bedazzled dance audiences in Europe, The Caribbean, and all over the United States.
It's also the place where 1,100 students of all ages and nationalities are currently being taught and nurtured. They are taught every aspect of dance with the emphasis on tap, modern, classical, and ethnic. Though some classes are still open to everyone, most are now geared to those students who are seriously interested in dance careers. This group goes through a rigorous and thorough one and one half hours of rehearsal each day. It is most assuredly not a program designed for dilettantes. It is a demanding and necessary schedule. But perfection does not come easy. The desire to dance and to dance with an ability up to the standards of DTH must be single-minded.
For those of all ages who love dance, but don't have quite that commitment or who want to study dance for its exercise value, there are classes available at very reasonable fees. In fact, all of DTH's fees are reasonable. For further information call (212) 690-2800.
When he started DTH eight years ago at the Church of the Master in Harlem, Mitchell, then a superstar dancer with the New York City Ballet Company was quoted to have said that "After Martin Luther King was assassinated and there were all the eulogies, I asked myself what can you do? When you pay homage, you do the thing you do best. If you make music, you beat your drum; if you are a singer, you sing your song; if you are a dancer, you dance ." And you establish an institution like DTH. You teach your skills to young dance students. You develop an excellent company like DTH.
ROUTES is pleased to take part in the celebration of what has become one of America's wonders. In an effort to win continued support on behalf of their excellence and will to exist, we invite you, our readers, to become patrons and supporters of DTH in whatever way you can. Their efforts should not go unheralded and the best way to make sure they stay alive and kicking is through your dollars and patronage.
Support Dance Theatre of Harlem.
Keep reading this issue – next article