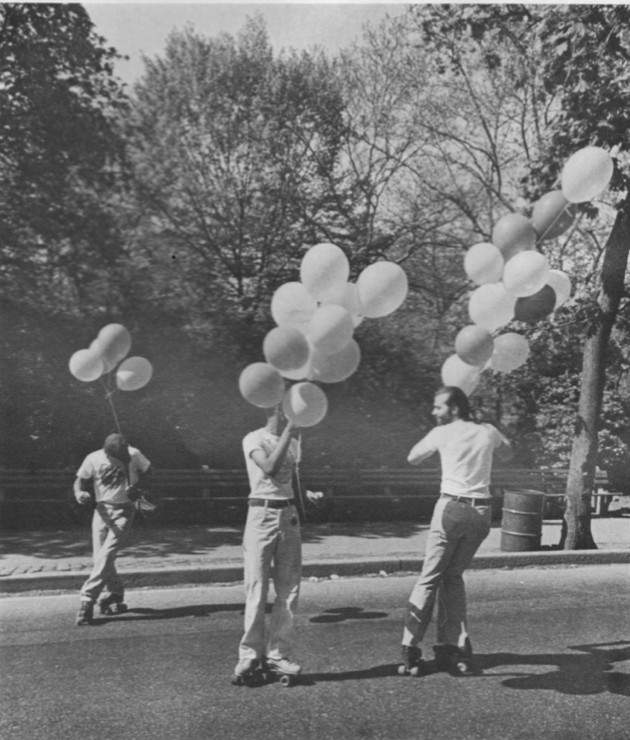 The wave of locomotion that had us dancing and running in the 70s, now has us rolling into the 80s. Roller skaters can be seen everywhere. They careen back and forth, slicing through the parks, streets and plazas that surround New York's monuments to the sky. Decked out in plain or fancy skating gear, often equipped with the omnipresent AM/FM stereo headset, casting fate to the wind, they're on the move.
Roller skating, the most contemporary and faddish of all recreational activities, provides an opportunity to condition and exercise your body while having a lot of fun. More than 30 million people have joined the ranks of a sport once considered strictly for kids only. Some of us do it for exercise or are practicing in anticipation of a subway fare hike, while others race or play hockey. Some just like the feeling of moving on wheels.
Whatever your particular reason, you'll find it's been made easier, especially since most skates are now equipped with polyurethane wheels. Always popular with skate-boarders, they now appear in every color of the spectrum. Unlike the old, outdoor skates with their noisy metal wheels, the new skates slide along with minimum impact on the ear. They also adapt to various surfaces better. The new wheels come in three basic types: indoor, outdoor, and a combination of both.
"The ultimate is to get a set of indoor and a separate set of outdoor wheels," said Tommy Epstein, one of the top skate smiths in the city, and manager of the skate shop at the Metropolis skating club. "There's no such thing as an indoor/outdoor wheel," he cautioned. "The smaller, harder polyurethane wheels can be used indoors or out. They're very good indoors, but outdoors, when you go over rough pavement or terrain, they are unforgiving and transfer a lot of unwanted vibrations," he insisted. "On the other hand, when you take a very soft outdoor wheel, which can absorb the vibrations, indoors it is very, very slow. It's like riding a bicycle on under inflated tires."
There are many recommended brands of wheels, but in most cases, the polyurethanes will put more glide in your stride and soul in your roll.
What helps keep those wheels turning smoothly, however, are the ball bearings. Most good skate sets have precision wheels, which means they have ball bearings that are partially or totally encased in metal. They require little, if any, lubrication. Inexpensive wheels may be attractive to the pocket book, but will not bring you the kind of enjoyment and long life you would bargain for. They tend to have unground or loose bearings, which easily accumulate dirt and grime, and therefore need frequent oiling.
The wheels are attached to a plate or truck which acts as a steering mechanism and allows the skater a degree of maneuverability never possible with the old skates. A good plate should be made of a strong aluminum alloy, which is not too heavy and is able to hold you up when doing double Mohawk spins, Russian splits, or any skate maneuvers other than just rolling forward. The better plates are forged, while cheaper plates are cast. Cast plates are poured into molds and can crack and break. Forged plates, on the other hand, are dense, much heavier and last longer.
The rubber apparatus attached to the front of most plates are called toe stops or stoppers. The beginner will use them to come to a halt, but after learning to skate, most people discard the big rubber stoppers and replace them with the much smaller button stop. The plate, wheels, and stoppers are attached to a boot, which rounds out the skating package.
A boot should fit snugly across the arches and around the heel and should be a little stiff. After a few skatings, leather boots, like most shoes, will stretch a bit. The very popular sneaker skates, should, according to Epstein, be avoided if possible. "They don't provide the ankle support needed for true high rolling," he warned. Leather boots, on the other hand, last longer and provide better ventilation. Don Lamothe, a skate maker on the West Side said, "I've seen a girl with skates on her Frye boots!"
Stock skates can be purchased for as little as $39, but the more serious skaters will want custom models and can expect to pay at least $160 or more for their dream wheels.
If you're still new to the sport and don't skate around enough to have your own pair, most skating emporiums listed in this magazine, rent skates to potential rock-a-rollers and offer individual as well as group lessons.
In Central Park, skates can be rented for $4 a session at the Wollman Skating Rink, at least until the concerts begin and again in September when they end. It's one of the few outdoor rinks in the city. If you are content just sailing down the asphalt roads in the park when they are closed to traffic, skates are available at Good Skates on 72nd Street near the entrance to Central Park. Two pieces of identification and $5 to $7 dollars will get you going. More recently, the SkatePier 84, considered to be the largest outdoor rink in the city, has opened at 44th Street near the Hudson River. Skating season runs through October daily from 11 a.m.-7 p.m.
Roller Disco
Skating, when fused with disco or rock music, has added a new twist to the sport and it can be just as much fun to watch skaters as it can be to roll along yourself. If you want to see some serious skating, take a trip to the Empire Rollerdome in Brooklyn, where many say roller-disco was born. Free styling, rocking, twirling, and gravity-defying techniques are just part of the normal, everyday, scene. Spurred on by music tailor-made for roller-motion, the skaters display dazzling dexterity. On Wednesdays, Bill Butler, the Godfather of Roller Diso, puts on a show at the Empire.
If you're ready to roll and haven't done so yet, don't get swept off your feet.
Remember a few helpful hints:
Take it easy. When you first put on skates, you'll be three or four inches taller and your legs will feel as though they have weights attached. It takes some getting used to, so be patient.
You'll also get the sensation that your left and right foot have exchanged places. Good balance is important and some general rules to follow are: relax. Don't be afraid to pick up your feet.
Check out the skaters who already have it down pat. Watch, and don't be embarrassed to try something new. Everybody looked awkward the first few times. We all had to crawl and fall before we were able to roll.
Also, warm up. Stretch those muscles like you would before a jog. Skating cold could lead to a torn muscle or strained limb.
For your own safety, don't break a fall with your wrists or arms. Wrist, not ankle injuries, are the most common among skaters.
Last, but not least, check the safety of your skates. Adequate maintenance will prevent a lot of injuries and guarantee that you'll have your skates for a long time.
With a little bit of courage, daring and practice, you'll be on your way. The exhilaration that comes with skating will make you a believer, so get rolling!
Keep reading this issue – next article