Cinque Retro at Art Students League Gallery
Spending an afternoon at a famous art museum can be a delight, but you might be shoulder to shoulder with many other patrons of the arts. Spending part of an afternoon at a small museum or gallery, with only one or a few other people there, can be a special treat. You can linger in front of an artwork and really absorb it. You feel unrushed. It's like you're in on a special secret.
I felt that way at the Art Students League gallery exhibition of "Creating Community: Cinque Arts Gallery" that is on from May 3-July 4, 2021. This small but powerful exhibition is about the artists who showed at the Cinque Gallery, founded in 1969 by artists, Romare Bearden (1911 – 1988), Ernest Crichlow (1914 – 2005), and Norman Lewis (1909 – 1979), which existed from 1969 through 2004 in a few locations in Manhattan.
Visit before it is too late:

Exhibition ends July 2, 2021
Monday-Friday 10 am – 6 pm
Address at the bottom
The Cinque Gallery specialized in featuring and promoting the work of Black fine artists; in addition, the gallery and several of its artists had ties to the Art Students League (some of the artists studied at the ASL and others taught or lectured at the ASL). 
The exhibition offers an intriguing mix of paintings, mixed media pieces, sculptures, collages and photographs by male and female artists. There are abstracts, portraits, landscapes. Many are serene while others encompass anger, frustration. In addition there is a showcase with a few documents from the Gallery itself, such as postcards promoting shows. 
"Creating Community" fits in well with other similar exhibitions this season, most notably "Grief and Grievance: Art and Mourning in America" at the New Museum (and photographer Dawoud Bey is represented in both these shows) as well as the GR Gallery's exhibition of paintings by Nigerian artist Dennis Osadebe and longtime New York photographer Alex Harsley's solo retrospective "The First Light From Darkness" at Pioneer Works in Brooklyn. There is also the new gallery Nicola Vassell, a rarity owned and run by an African American woman. In addition, the Black Wall Street Gallery in Soho, which has held an exhibition about the Tulsa Race Massacre, has been vandalized three times this spring. So the art and the themes dear to many Black artists and their admirers have been in the news a great deal this year in New York City.
Visiting museums has been one of the chief cultural joys available in New York City during much of the pandemic. When we couldn't see concerts or theater, when movies were only available at home and sports games were greatly restricted in attendance, we could still visit many museums. However, we had to make advance reservations most of the time. And most museums charge admission fees. For some people this was a problem, both a financial and technological burden. 
This has been tough especially for the poor, and for the young. If we want to reach the young and expose them to art, particularly fine art, and extra particularly to fine art created by Black artists, then we want more options for them. A show such as the Cinque Gallery exhibit at the ASL is one way to reach those with less money. We have to let them know about these opportunities.
Several of the artists represented in the ASL show have lent pieces to this exhibit, as well as some collections, foundations and galleries. One of these is the Kenkeleba House, located in Manhattan's East Village. This gallery, a non-profit like Cinque, was also founded by three artists, and has been devoted to promoting the works of Black artists and African American and African culture as well. Kenkeleba was started in 1974, just a few years after Cinque; that time was ripe for non-profits and arts groups, back when New York City had relatively lower rents. Fortunately Kenkeleba House is still welcoming guests at its East 2nd Street spot.
The Cinque Gallery show is a fine introduction to contemporary art and expression created by African American artists. The space itself is not large but the layout and the light from the windows makes it easy to get up close to each piece, or to stand back and admire how several adjoining pieces fit in together. You cannot always do this in a crowded museum space so take the opportunity to do so here.
Why stage an exhibition about an obscure Manhattan art gallery that closed almost 20 years ago? There are many worthwhile reasons, and hopefully their story and their mission can inspire struggling artists, collectors, students, and those who want to learn more than just the highlights of contemporary art in one of the art world's premier cities.
Susan Stedman, the show's curator, explained that running the non-profit Cinque Gallery and maintaining its legacy involved "many volunteers, and it was a labor of love." She knew many of the artists and was continually impressed with the artists and how they balanced their creative output with working jobs. As we observed the painting "The Strength of Black Families," by Ernest Crichlow, she explained to me that "this was used for a (non-fiction) book. Many of these artists have taken on commercial commissions," in addition to their fine arts output. The oil painting is a moving survey of Black Everywomen, standing in a long line, looking forward.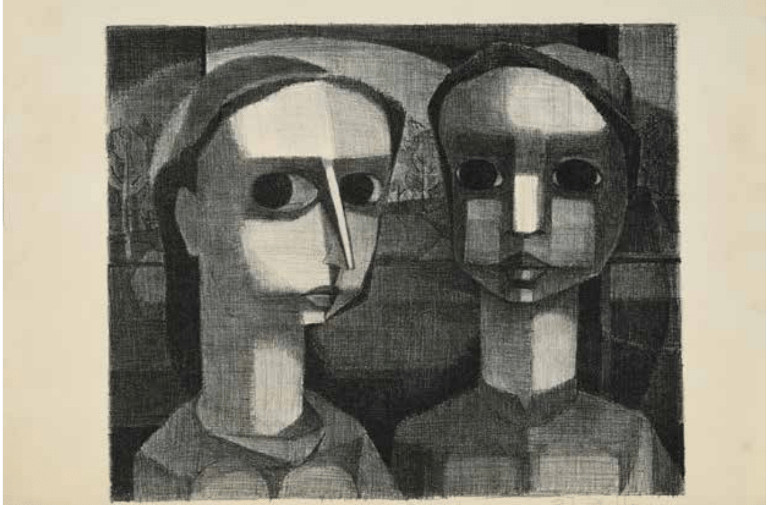 Several pieces in the Cinque show are part of the Permanent Collection of The Art Students League. They include the fiery oil painting  abstract Red, White and Black by Charles Alston; the lithograph of two youngsters in Youth by Robert Blackburn; the haunting landscape painting Abandoned by Hughie Lee-Smith; an untitled abstract painting by Norman Lewis; a moody (or earthen?) untitled painting by Richard Mayhew; the silkscreen print Decaying Construction by Mavis Pusey; and a lithograph portrait Mother by Charles White. These pieces span the categories here of portraits, landscapes and abstracts; all are intense with emotion. 
The catalogue for this show is a beautiful work, which includes color reproductions of each piece, a thorough and enlightening history of the gallery, and introspective essays including a few recollections from arts represented here such as Ray Grist, Cynthia Hawkins, Robin Holder (who also studied at The ASL as a teenager), and others. 
An interesting point about this show, explained to me by Ms. Stedman, is that she "asked the artists themselves what they preferred to show" in this exhibition, an atypical curating move in a retrospective such as this.
And how did the Cinque Gallery get its name? Joseph Cinque, a West African man of the Mende people, was the leader of the Amistad slave ship mutiny in the 1830s. Cinque and his African comrades were part of a legal case United States v. The Amistad, which reached the Supreme Court. There they were found to have rightfully defended themselves, and they were set free. Americans sympathetic to their cause raised funds to help them return to Africa, to what is known now as Sierra Leone. 
The struggles and eventual freedom experienced by Cinque the man inspired the gallery in many ways. His persevering spirit and strength would motivate this small gallery to have an outsized presence in the art world and to continue to be influential today. The Cinque Gallery helped propel the careers of several Black fine artists, so that they received greater recognition from the arts community at large, but it also focused on the themes and concerns particular to this group. Could it be said that the Cinque Gallery became a victim of its success? Or was it more a case of the little guy finally succumbing to a lack of funding?
Before it's too late, take the opportunity to see this show and ponder its place in the history of American Art.
Where to find The Art Students League of New York
215 West 57th Street
New York, NY 10019
212-247-4510 (phone)
212-541-7024 (fax)
info@artstudentsleague.org
Latest posts by Ellen Levitt
(see all)